50 Quotes from Paul Graham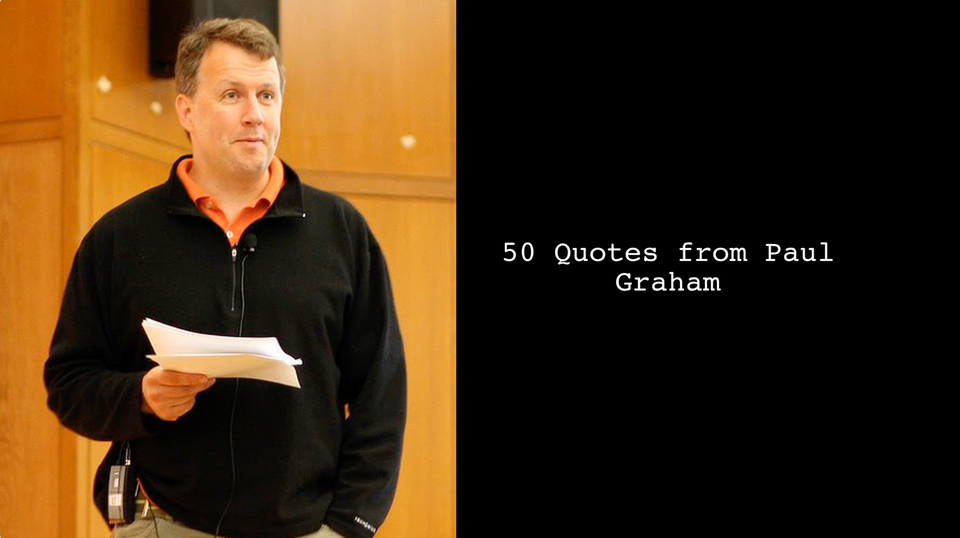 1. "Those in authority tend to be annoyed by hackers' general attitude of disobedience. But that disobedience is a byproduct of the qualities that make them good programmers."
2. "Attacking an outsider makes them all insiders."
3. "A programming language is for thinking about programs, not for expressing programs you've already thought of. It should be a pencil, not a pen. "
4. "Being strong-willed is not enough, however. You also have to be hard on yourself. Someone who was strong-willed but self-indulgent would not be called determined. Determination implies your willfulness is balanced by discipline."
5. "Small-business customers are very conservative and very cheap. We don't have to explain ourselves for the most part."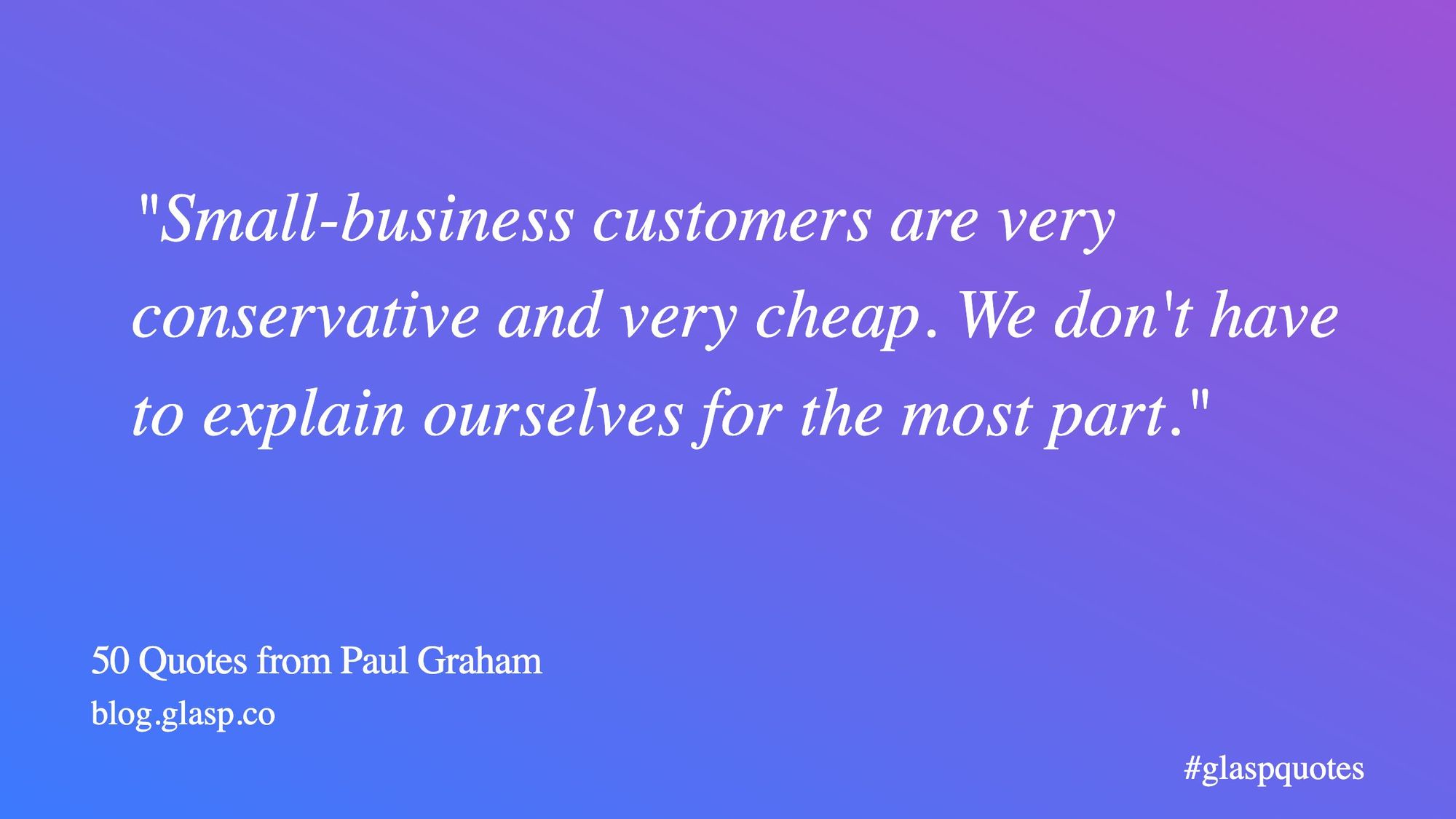 6. "If you leave a bunch of eleven-year-olds to their own devices, what you get is Lord of the Flies. Like a lot of American kids, I read this book in school. Presumably it was not a coincidence. Presumably someone wanted to point out to us that we were savages, and that we had made ourselves a cruel and stupid world. This was too subtle for me. While the book seemed entirely believable, I didn't get the additional message. I wish they had just told us outright that we were savages and our world was stupid."
7. "It's hard to say exactly what it is about face-to-face contact that makes deals happen, but whatever it is, it hasn't yet been duplicated by technology."
8. "Object-oriented programming offers a sustainable way to write spaghetti code. It lets you accrete programs as a series of patches."
9. "I suspect few housing projects in the US were designed by architects who expected to live in them. You see the same thing in programming languages. C, Lisp, and Smalltalk were created for their own designers to use. Cobol, Ada, and Javawere created for other people to use. If you think you're designing something for idiots, odds are you're not designing something good, even for idiots."
10. "A restaurant can afford to serve the occasional burnt dinner. But in technology, you cook one thing and that's what everyone eats. So any difference between what people want and what you deliver is multiplied. You please or annoy customers wholesale. The closer you can get to what they want, the more wealth you generate."
11. "If you're in a job that feels safe, you are not going to get exceptional, because if there is no danger there is almost certainly no leverage."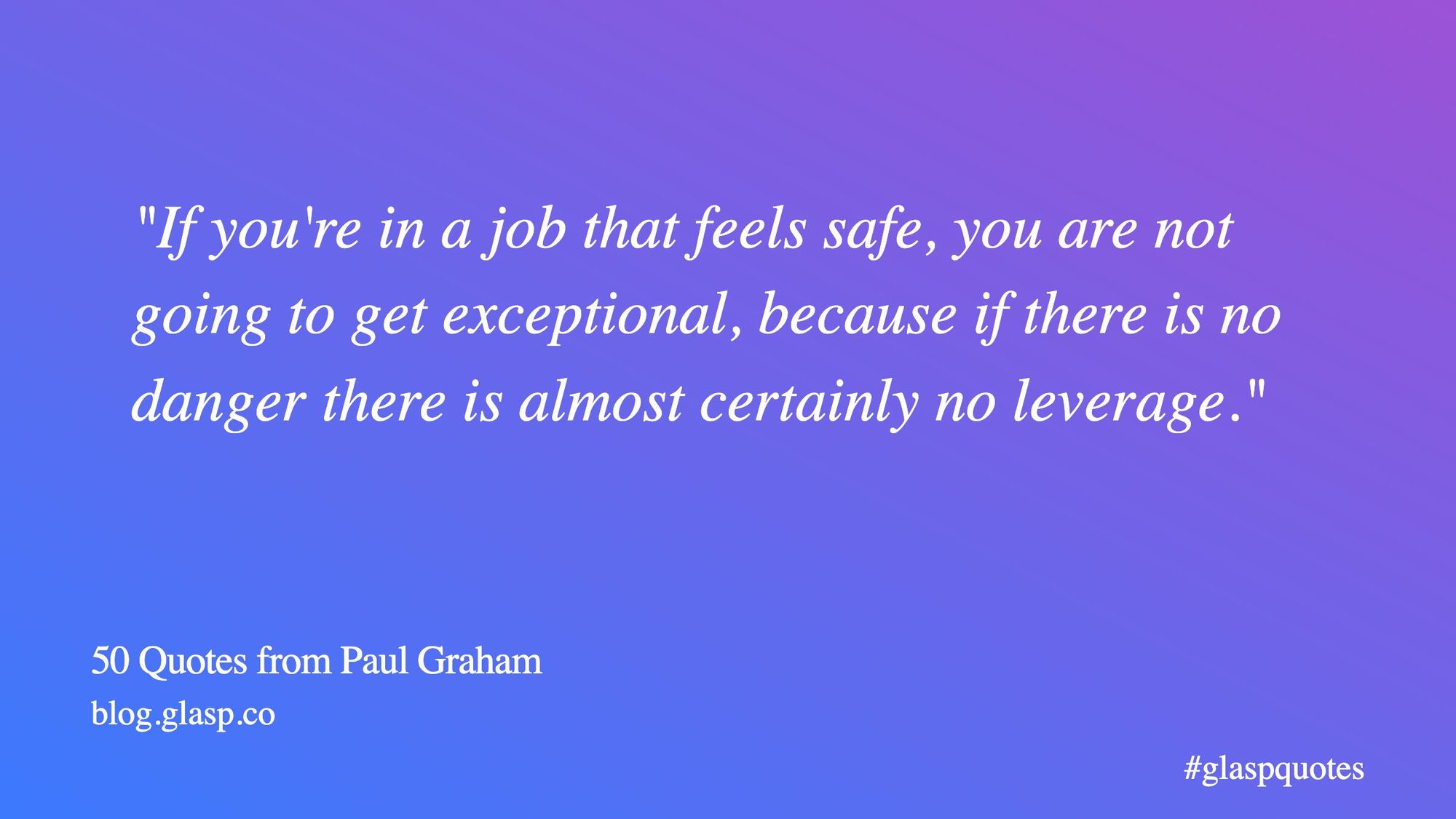 12. "Likewise, in any social hierarchy, people unsure of their own position will try to emphasize it by maltreating those they think rank below. I've read that this is why poor whites in the United States are the group most hostile to blacks."
13. "Most makers make things for a human audience. And to engage an audience you have to understand what they need."
14. "The recipe for great work is: very exacting taste, plus the ability to gratify it."
15. "You have to be able to see things from the user's point of view."
16. "If you can keep hope and worry balanced, they will drive a project forward the same way your two legs drive a bicycle forward."
17. "And for the same reason, as a bunch of guys who get together to go hunting. They don't actually hate you. They just need something to chase."
18. "When Facebook first started, and it was just a social directory for undergrads at Harvard, it would have seemed like such a bad startup idea, like some student side project."
19. "What I tell founders is not to sweat the business model too much at first. The most important task at first is to build something people want. If you don't do that, it won't matter how clever your business model is."
20. "If you disagree with something, it's easier to say 'you suck' than to figure out and explain exactly what you disagree with. You're also safe that way from refutation. In this respect trolling is a lot like graffiti. Graffiti happens at the intersection of ambition and incompetence: people want to make their mark on the world, but have no other way to do it than literally making a mark on the world."
21. "Startups often have to do dubious things."
22. "It's hard to do a really good job on anything you don't think about in the shower."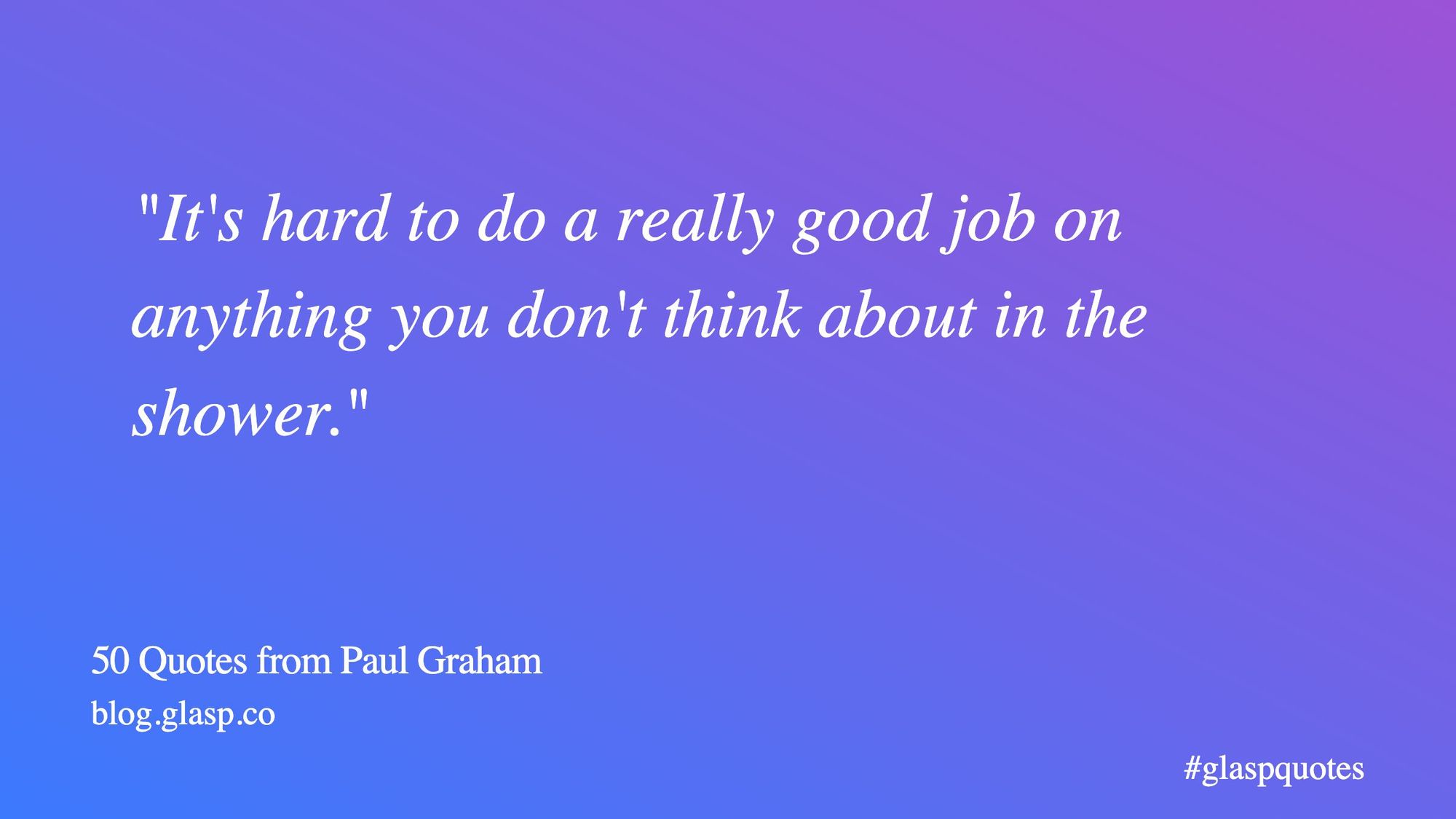 23. "There is all the more reason for startups to write Web-based software now, because writing desktop software has become a lot less fun. If you want to write desktop software now you do it on Microsoft's terms, calling their APIs and working around their buggy OS. And if you manage to write something that takes off, you may find that you were merely doing market research for Microsoft."
24. "Paying attention is more important to reliability than moving slowly. Because he pays close attention, a Navy pilot can land a 40,000 lb. aircraft at 140 miles per hour on a pitching carrier deck, at night, more safely than the average teenager can cut a bagel."
25. "The main reason nerds are unpopular is that they have other things to think about."
26. "In a big company, you can do what all the other big companies are doing. But a startup can't do what all the other startups do."
27. "The standard to compare your software to is what it could be, not what your current competitors happen to have."
28. "You need three things to create a successful startup: to start with good people, to make something customers actually want, and to spend as little money as possible."
29. "Venture capitalists have a list of danger signs to watch out for. Near the top is the company run by techno-weenies who are obsessed with solving interesting technical problems, instead of making users happy."
30. "It's important for nerds to realize, too, that school is not life. School is a strange, artificial thing, half sterile and half feral. It's all-encompassing, like life, but it isn't the real thing. It's only temporary, and if you look, you can see beyond it even while you're still in it."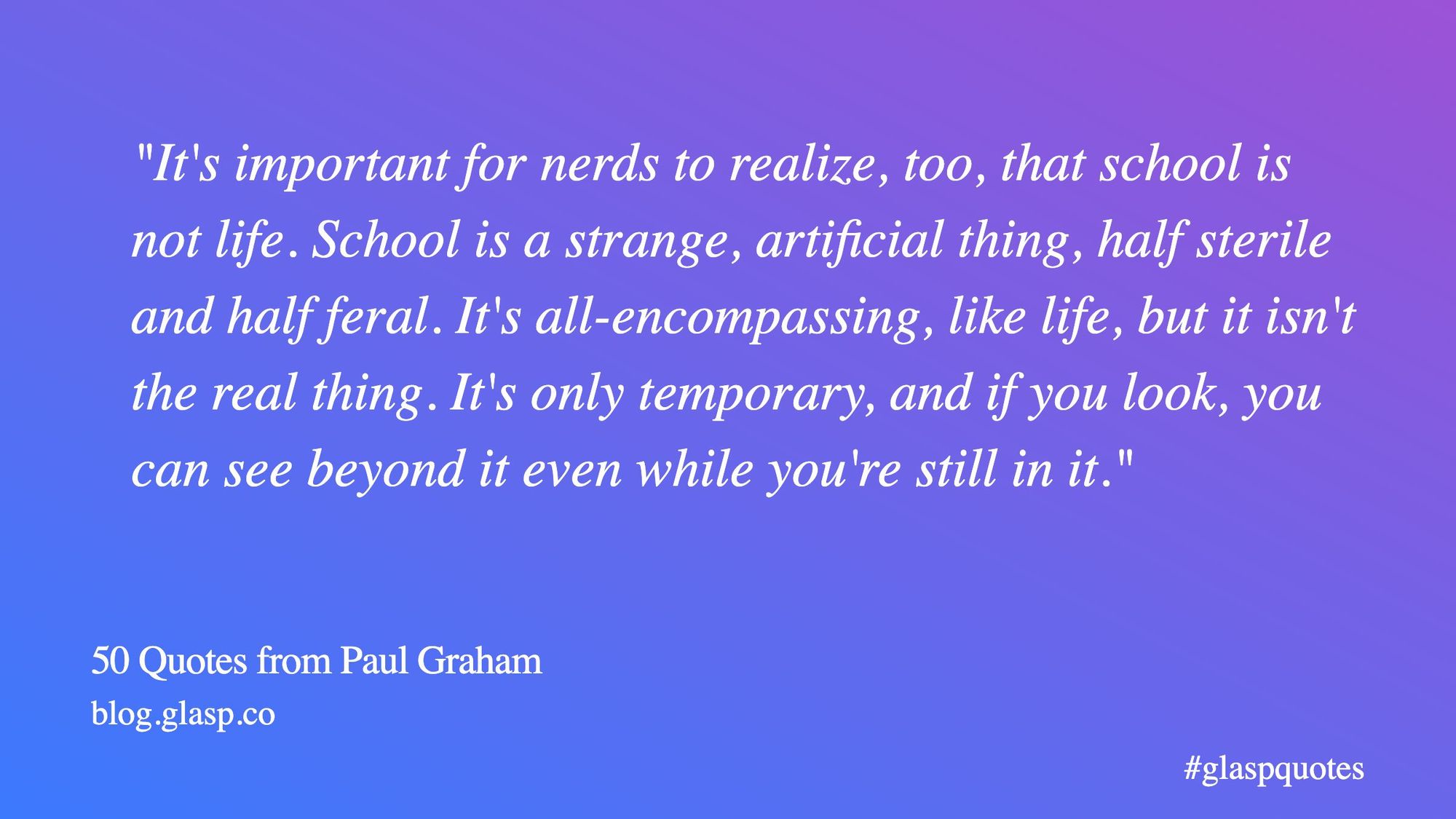 31. "Users are a double-edged sword. They can help you improve your language, but they can also deter you from improving. So choose your users carefully, and be slow to grow their number. Having users is like optimization: the wise course is to delay it."
32. "The most important thing is not to let fundraising get you down. Startups live or die on morale. If you let the difficulty of raising money destroy your morale, it will become a self-fulfilling prophecy."
33. "To become more popular, you need to be constantly doing things that bring you close to other popular people, and nothing brings people closer than a common enemy."
34. "I suppose I should learn Lisp, but it seems so foreign."
35. "Don't ignore your dreams; don't work too much; say what you think; cultivate friendships; be happy."
36. "If you really understand something, you can say it in the fewest words, instead of thrashing about."
37. "People are bad at looking at seeds and guessing what size tree will grow out of them. The way you'll get big ideas in, say, health care is by starting out with small ideas. If you try to do some big thing, you don't just need it to be big; you need it to be good. And it's really hard to do big and good simultaneously. So, what that means is you can either do something small and good and then gradually make it bigger, or do something big and bad and gradually make it better. And you know what? Empirically, starting big just does not work. That's the way the government does things. They do something really big that's really bad, and they think, Well, we'll make it better, and then it never gets better."
38. "So if you can figure out a way to get in a design war with a company big enough that its software is designed by product managers, they'll never be able to keep up with you. These opportunities are not easy to find, though. It's hard to engage a big company in a design war, just as it's hard to engage an opponent inside a castle in hand-to-hand combat."
39. "Who thinks they're not open-minded? Our hypothetical prim miss from the suburbs thinks she's open-minded. Hasn't she been taught to be? Ask anyone, and they'll say the same thing: they're pretty open-minded, though they draw the line at things that are really wrong. (Some tribes may avoid "wrong" as judgemental, and may instead use a more neutral sounding euphemism like "negative" or "destructive".)"
40. "When people are bad at math, they know it, because they get the wrong answers on tests. But when people are bad at open-mindedness they don't know it. In fact they tend to think the opposite."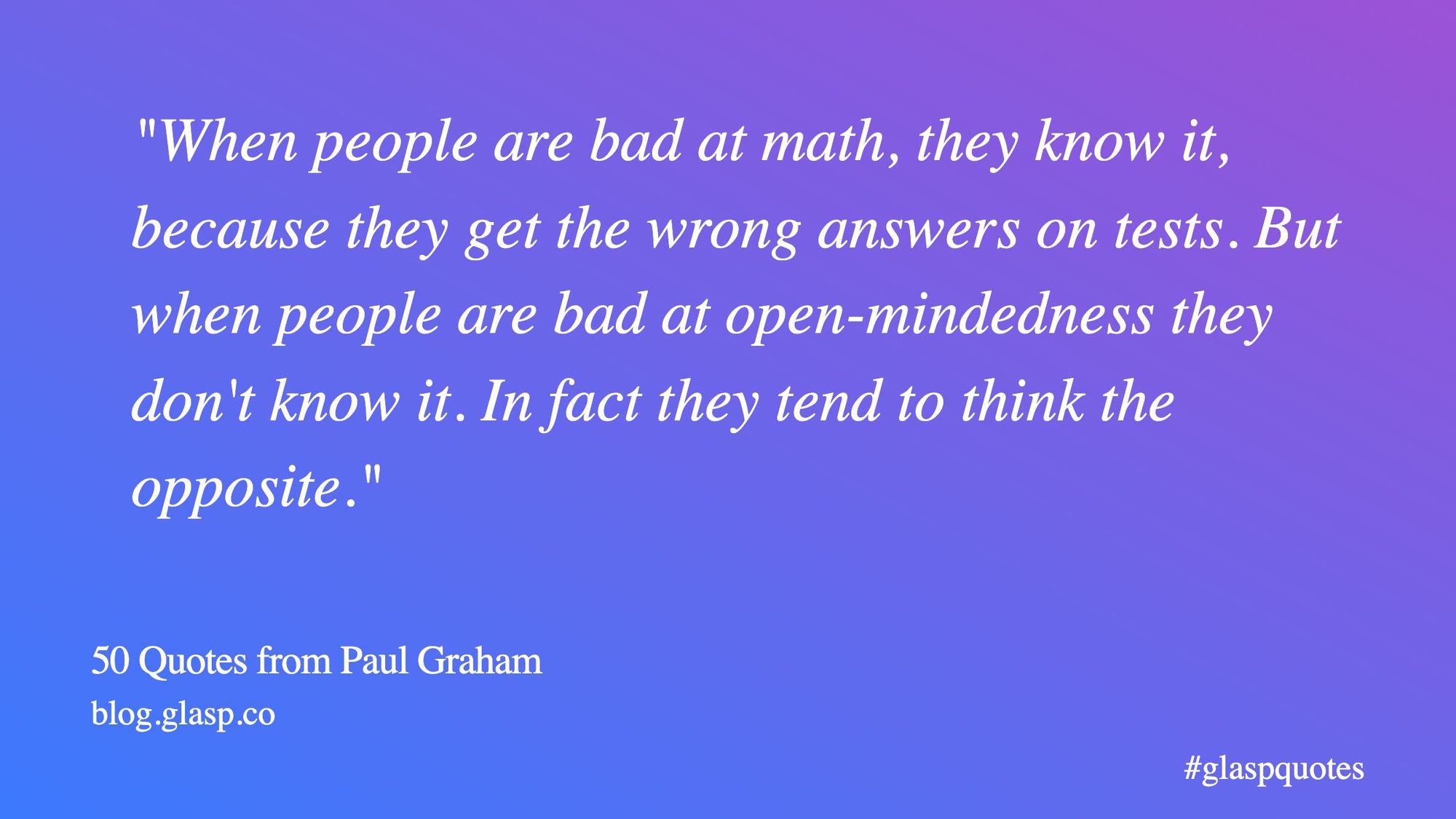 41. "I don't predict the demise of object-oriented programming, by the way. Though I don't think it has much to offer good programmers, except in certain specialized domains, it is irresistible to large organizations. Object-oriented programming offers a sustainable way to write spaghetti code. It lets you accrete programs as a series of patches. Large organizations always tend to develop software this way, and I expect this to be as true in a hundred years as it is today."
42. "Just fix things that seem broken, regardless of whether it seems likes the problem is important enough to build a company on."
43. "When Bauhaus designers adopted Sullivan's "form follows function," what they meant was, form should follow function. And if function is hard enough, form is forced to follow it, because there is no effort to spare for error. Wild animals are beautiful because they have hard lives."
44. "Wonder if anyone in the world works harder at anything than American school kids work at popularity. Navy SEALS and neurosurgery residents seem slackers by comparison."
45. "In our world, you sink or swim, and there are no excuses."
46. "Why Europe grew so powerful. Was it something about the geography of Europe? Was it that Europeans are somehow racially superior? Was it their religion? The answer (or at least the proximate cause) may be that the Europeans rode on the crest of a powerful new idea: allowing those who made a lot of money to keep it."
47. "Like painting, most software is intended for a human audience. And so hackers, like painters, must have empathy to do really great work."
48. "If you could replace high-school yearbooks, that could be a lot of money. It's so clearly waiting for someone to come along."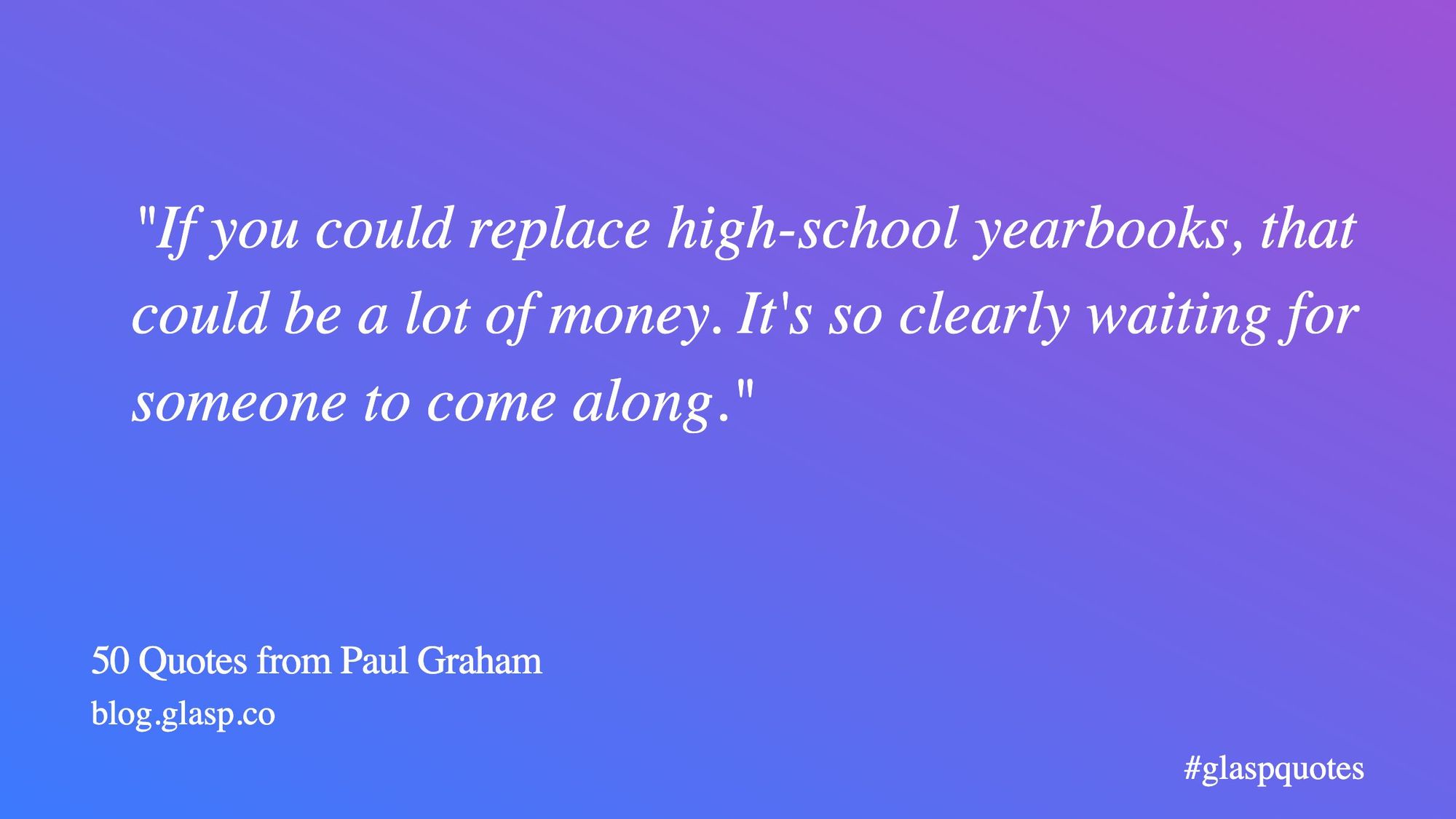 49. "One startup I dream of funding is the one that kills the record companies."
50. "If you imagine someone with 100 percent determination and 100 percent intelligence, you can discard a lot of intelligence before they stop succeeding. But if you start discarding determination, you very quickly get an ineffectual and perpetual grad student."