Glasp and Professional Technical Writer Carlos Franco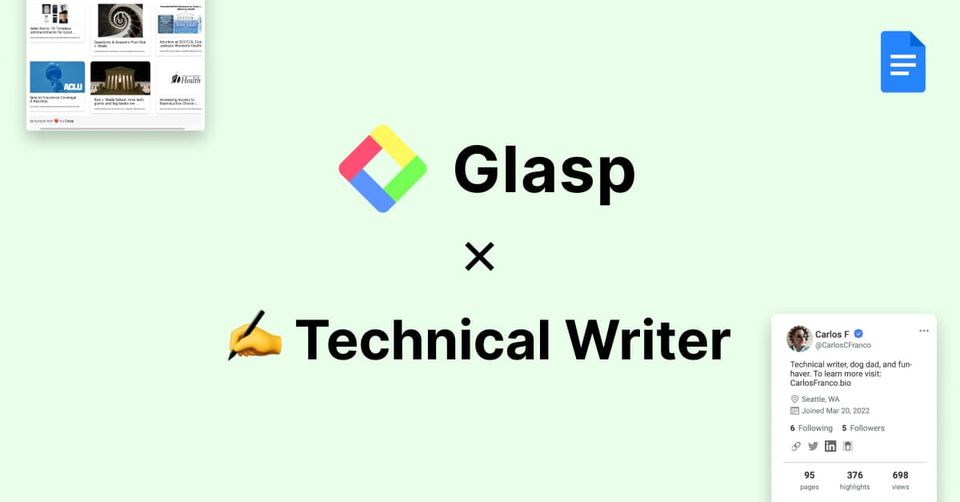 Fortunately, many writers have discovered Glasp to be a helpful work tool; we often see a portion of their workflow on their Glasp profiles. In addition, we get a lot of feedback from writers, which helps us fine-tune and improve Glasp. We spoke with Carlos Franco, a technical writer who uses Glasp, for this interview. We found his professional writing insights and input illuminating. We hope they will be useful for other writers who work with subject matter experts (SMEs) and editorial teams to manage article content and resources. Let's look at his writing process and how he manages his workflow using Glasp.
What you will learn in this article
---
Use Case of Glasp for Technical Writers
Before Glasp - Problems
Message to Other Writers
---
Background
Carlos currently lives and works in Seattle, Washington. He is a freelance technical writer for online patient education content about cancer, sleep, reproductive health, and more. He began using Glasp after a recommendation from another writer in his organization. As a result, his Glasp page contains highlights from sources like the Centers for Disease Control and Prevention (CDC), National Institutes of Health (NIH), and many more highly-credible resources.
💡
Carlos's Toolset:
• Glasp (Highlight + Manage references + Capture content from references)
• iA Writer (Draft content + Interlinking + Incorporate SEO terms)
• Google Docs (Collaborate with SMEs and Editorial Team; Submit articles)
Use Case of Glasp
Glasp: Thank you for taking the time and allowing us to talk! We're excited to hear feedback from you. First of all, could you tell us your writing workflow and how Glasp is related to the process?
Carlos: Sure. As a patient education writer, I write about medical topics like cancer, sleep issues, medical tests or procedures, and most recently, a Q&A about access to abortion services following the Dobbs v. Jackson Supreme Court ruling. The organization I freelance for primarily uses the Google ecosystem (Docs and Spreadsheet) to collaborate and deliver writing assignments. The marketing team may have a list of keywords or interlinks they would like to incorporate in the article, and the editorial team may also have some advised resources or content suggestions. This is the typical starting point for most of my articles.
After receiving the specifications or 'spec' for the managing editor, I begin gathering references based on the suggested resources and branching out from those using a tiering system established on the credibility of the resource. For example, governmental organizations like the CDC or NIH would be considered top-tier, followed by respected journals and national associations, ending with reputable news organizations and articles on PubMed.
My job is essentially to contextualize the broad scope of information on the topic and communicate it as clearly and concisely as possible. I typically have, on average, 20 to 30 tabs open in my Chrome web browser, organized into groups by colored tabs. This is where my reliance on Glasp has really come into play in my workflow.
I see. How is the structure of the article determined? You or the organization decides?
The organization determines the general structure and keywords to include, and I define the specifics. I go through the reference articles in the open tabs, highlighting key sentences that address the relevant questions for the article. After highlighting an article, I add tags about the topic, resource, or article section to Glasp and then close the browser tab. When it comes time to incorporate the highlights into my writing, I'll search for what I'm looking for on Glasp using the tags and then drop them into the Google Docs comments so the editors can view the source material next to what I have written.
That's incredible! Anything else you do to improve your flow?
As a medical writer, I must prioritize source content credibility. As a result, I follow a tier system for ranking source material. I color code my highlights in the following way:
💡
🟦 = Tier 1 resource: typically a government page like the CDC, NIH, MedlinePlus, STATPearls, etc.
🟨 = Tier 2 resource: typically a national association page or reputable journal like American Family Physician, Journal of the American Medical Association, Journal of Clinical Sleep, etc.
🟥 = Tier 3 resource: typically an authoritative news organization or nonprofit organization like Reuters, National Organization for Rare Disorders, PubMed articles that have over 50 citations, etc.

When I'm writing an indie project, I'll usually follow the same system, but might change things like using 🟩 to highlight a point that supports an affirmative position in my article and 🟥 to highlight a counterpoint.
I also tend to note the date when I find a reference and rely on Glasp's calendar function to jump to it quickly without needing to search for it using the search bar or tags.
This is our first time to hear that using different colors in such a way. And we're curious about how long it takes for you to write?
It usually takes around two weeks to complete an article. I'll spend one to two days doing initial research and the rest of the time writing and doing peripheral research on subtopics. My articles require a number of resources, as I mentioned earlier. For instance, if the word count is around 2,500, I may cite approximately 30 to 40 references.
That's longer than we expected. What would you do after finishing the draft?
When I finish a draft, I send it to the editorial team. The assigned editor will proofread the article for structure, keywords, accuracy, and accessibility. I've also begun to include a Glasp tag-link (a weblink that pre-selects a specific tag on my Glasp page) so that the editor can view all of the highlights and source material directly on Glasp.
I see. That's a specific and good use case. As Glasp keeps your highlights on the profile page, they can easily find the reference point on the original content by copying and searching with it! What pain point do you think Glasp solves?
From my perspective and use, Glasp works as an interactive reference list. As a writer, I need to refer to numerous resources, so having a centralized ecosystem to manage and cite them is essential to my productivity. But more than that, if anyone wants to follow up on my writing (for example, checking a quote), they can do so easily by visiting my highlights. Which I think adds a layer of credibility to my writing by providing transparency and the context of use for the references.
Before Glasp - Problems
I see. Glasp helps manage resources and increase productivity. What did you use before Glasp?
Before being introduced to Glasp, I used to use OneNote. I would create different tabs in a notebook based on the resource tiering I mentioned earlier. I would save links and copy/paste the source language to the tab (typically changing the font color to blue) and then write parts of the draft in the same tab (usually in black). But as you might expect, there was a lot of switching between tabs and changing font colors, which was both tedious and time-consuming.
I found that despite which note-taking app I used, the workflow was similar—copying and pasting the source language to aggregate and work with it in a centralized location. I think this is where Glasp stands out as a writing tool.
That's a unique insight. But we agree that documenting tools have the same structure in terms of referring and writing flow, so the solution should come up from a different angle. How about the visibility? Do you care that learners on Glasp can see what you're reading?
I'm not too concerned with the visibility of my highlights. Because I primarily use Glasp for my work, I'm collecting highlights of public health information that are already in the public domain. Also, by sharing what I'm referencing, I can increase the article's credibility by demonstrating that I'm relying on authoritative and trustworthy sources. Additionally, the views help me gauge interest in what I'm writing about.
Glad that you are okay with being shared. We remember that you mentioned the social aspect of Glasp before, but how does it help you?
Since the majority of my highlights come from places like the CDC and NIH and cover some topics that are pretty granular, I don't think many casual readers will find them interesting. I follow another technical writer I work with who writes on similar subjects and uses the same caliber of resource material. Our topics sometimes overlap, so I occasionally search their page for material.
I use Glasp's Twitter integration to post interesting highlights and promote highlights from my articles to help gain traffic. I tweet them using the hashtag: #GlaspQuotes with the image capture feature that Glasp's API produces as one of its sharing options. I've also embedded a highlight "bookshelf" on my website so people visiting can see my most current highlights.
Recommendation
I see. We often get feedback that one of the difficulties for writers is getting traffic to their website, especially in the beginning phase. We hope Glasp brings people to your website. Do you have anything to say to other writers?
I hope so too. My message to other writers is: Glasp makes capturing, curating, and sharing source material easy and seamless. It has significantly improved my workflow for long-form online content and lends itself to the goal of democratizing and disseminating information. Join the community and share your content.
That's a great message! Is there anything you want us to improve Glasp?
Thank you very much. Yes, it would be ideal if I could select the title for the page comment. For example, some options could be "Summary," "Abstract," "Thoughts," or "Why I'm reading." I think It would help contextualize the highlights and the reason they were highlighted.
Also, as I mentioned, I cite a lot of references, so it would be great if I could choose a format for exporting them like AMA, AP, Chicago Manual, etc.
Thanks for the suggestion. We can add a reference point in these formats, so we will work on it. Anything else you want us to improve?
Thank you! Yes, it would be great if I could add tags by double-clicking the highlighted sentences while on the original source. It would improve the efficiency of my workflow because then when I go to my profile page, my highlights will already be organized and tagged.
That's a blind spot for us! Thank you for giving us the suggestion. Let us know if you have any suggestions.
Sure. It's my pleasure!
Appendix
In this interview, Carlos described his writing process as a professional writer. We came to understand that the workflow of professional writers can sometimes be a difficult and drawn-out process. We were pleased to hear that Glasp helps contribute to his increased productivity. We hope other writers who read his interview can benefit from his perspective and practical insights into his workflow to help them become more productive. Please let us know if you have any requests for new features or suggestions. We always appreciate hearing from our Glasp community!
More about Carlos
Follow Glasp to see updates 👀
—