50 Quotes from Charlie Munger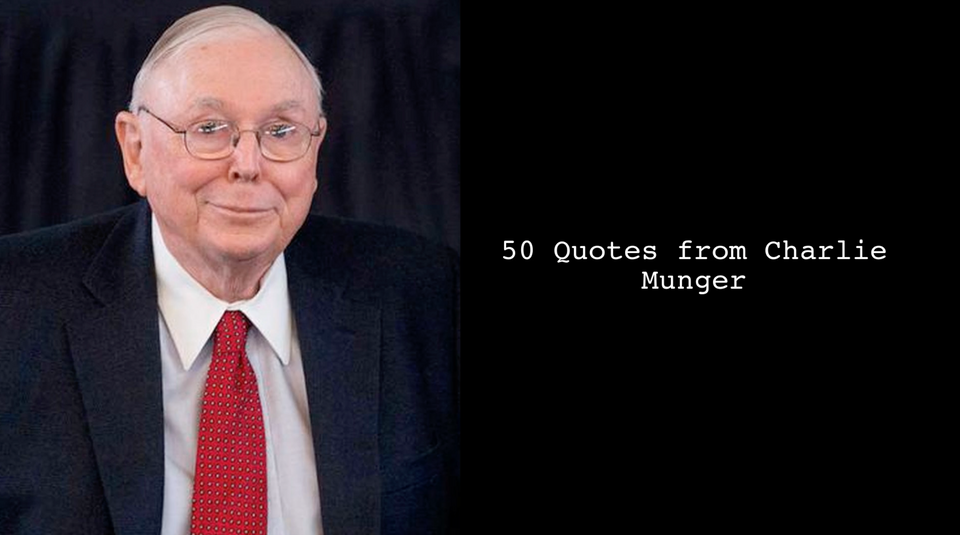 1. "Gold is a great thing to sew into your garments if you're a Jewish family in Vienna in 1939, but I think civilized people don't buy gold, they invest in productive businesses."
2. "A banker who is allowed to borrow money at X and loan it out at X plus Y will just go crazy and do too much of it if the civilization doesn't have rules that prevent it."
3. "When someone takes their existing business and tries to transform it into something else - they fail. In technology that is often the case. Look at Kodak: it was the dominant imaging company in the world. They did fabulously during the great depression, but then wiped out the shareholders because of technological change."
4. "There's more honor in investment management than in investment banking."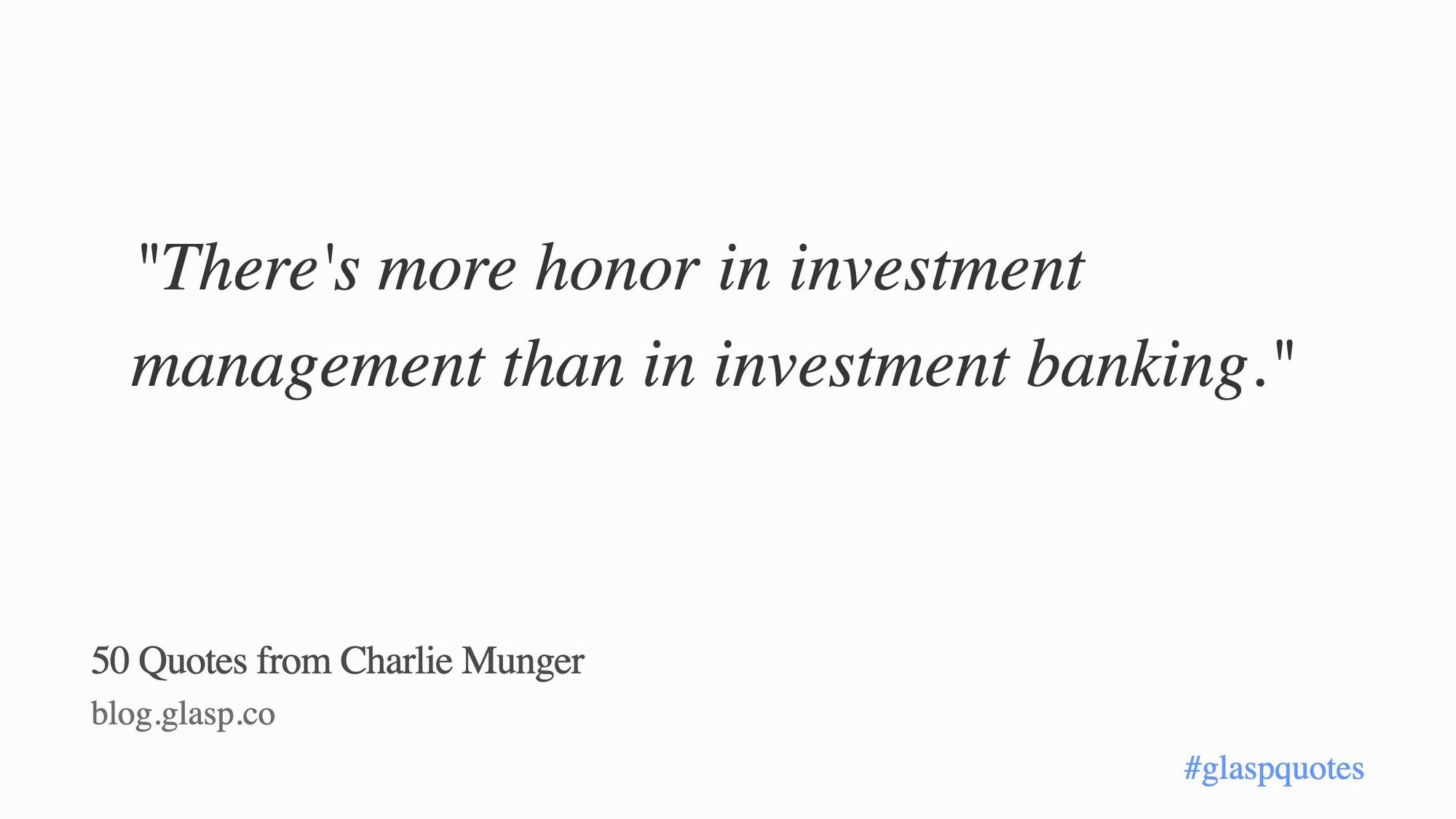 5. "Wall Street has too much wealth and political power."
6. "Everyone has the idea of owning good companies. The problem is that they have high prices in relations to assets and earnings, and that takes all of the fun out of the game."
7. "People are trying to be smart - all I am trying to do is not to be idiotic, but it's harder than most people think."
8. "The perfect example of Darwinism is what technology has done to businesses."
9. "There's danger in just shoveling out money to people who say, 'My life is a little harder than it used to be.' At a certain place you've got to say to the people, 'Suck it in and cope, buddy. Suck it in and cope.'"
10. "I would argue that a majority of the horrors we face would not have happened if the accounting profession developed and enforced better accounting."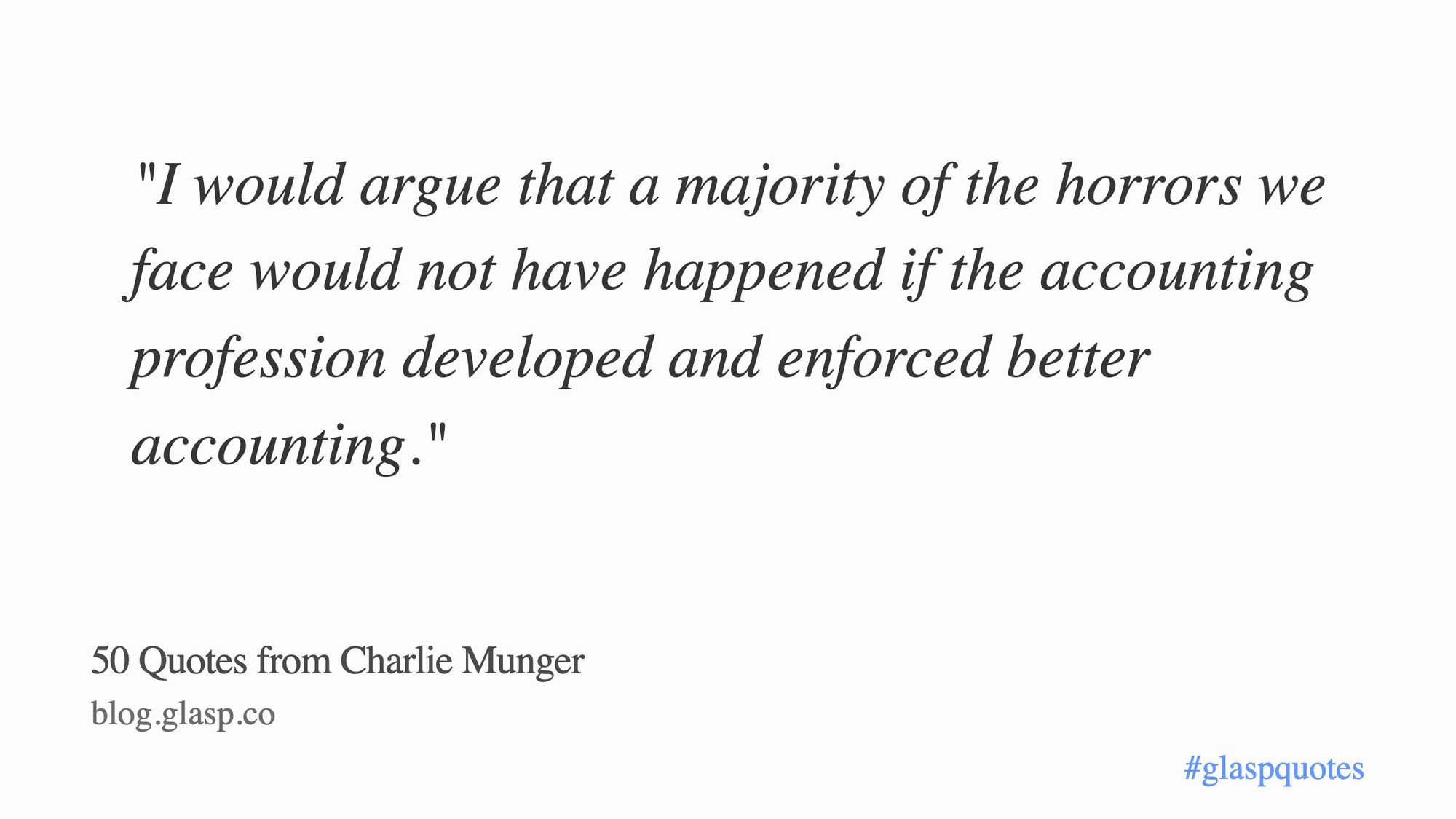 11. "Accounting is a big subject and there are huge forces in play. The entire momentum of existing thinking and existing custom is in a direction that allows terrible follies to happen, and the terrible follies have terrible consequences."
12. "Derivative trading with mark-to-market accounting degenerates into mark-to-model. Two firms make a big derivative trade and the accountants on both sides show a large profit from the same trade."
13. "This is a good life lesson: getting the right people into your system is the most important thing you can do."
14. "Bernie Ebbers and Ken Lay were caricatures - they were easy to spot. They were almost psychopaths. But it's much harder to spot problems at companies like Royal Dutch [Shell]."
15. "Well in the history of the See's Candy Company they always say, "I never did it before, and I'm never going to do it again." And we cashier them. It would be evil not to, because terrible behavior spreads."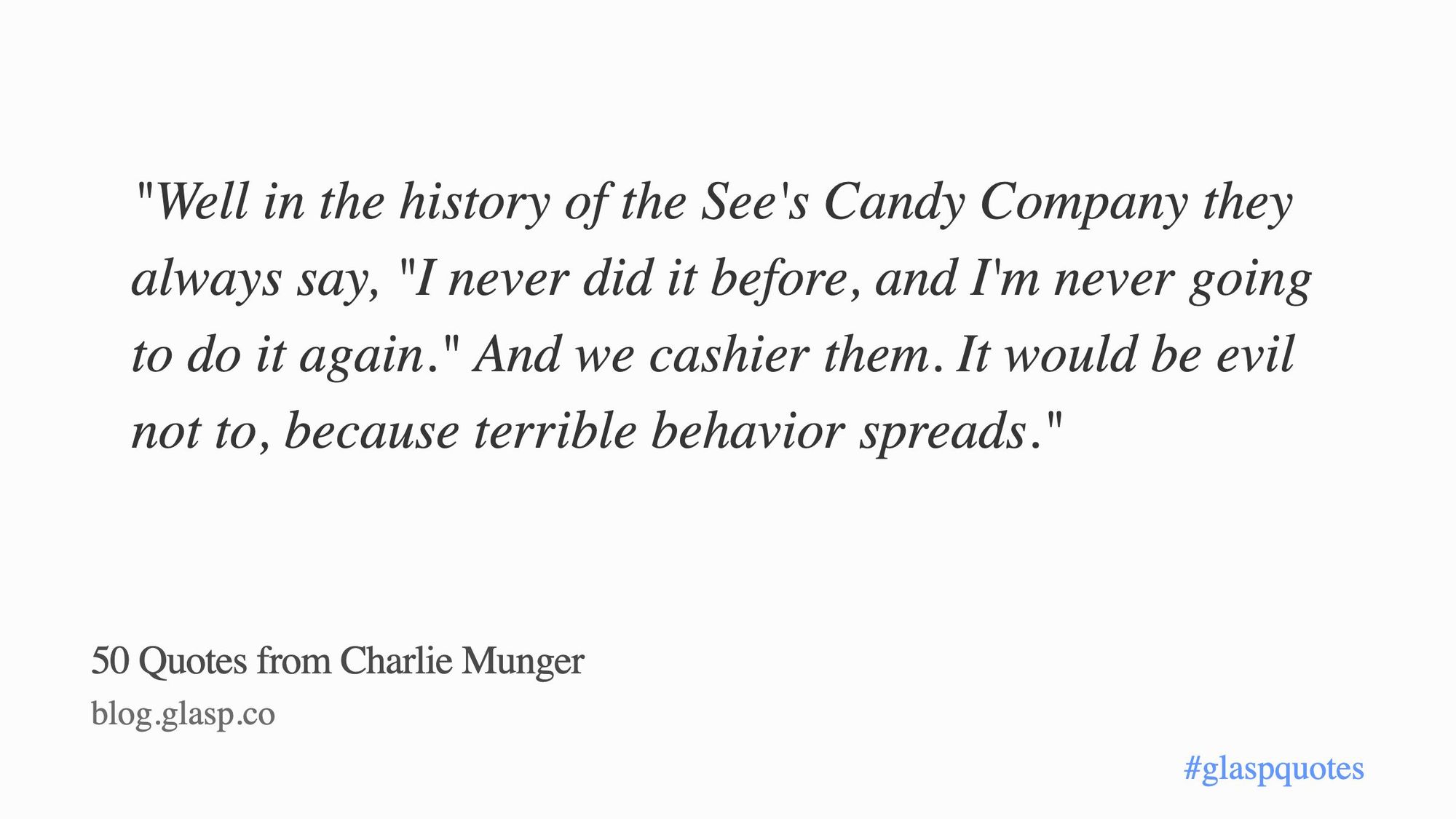 16. "We're guessing at our future opportunity cost. Warrenis guessing that he'll have the opportunity to put capital out at high rates of return, so he's not willing to put it out at less than 10% now. But if we knew interest rates would stay at 1%, we'd change. Our hurdles reflect our estimate of future opportunity costs."
17. "It's not the bad ideas that do you in, but the good ones."
18. "...I'm very pleased when the smartest people come [to the U.S.] and almost never pleased when the very bottom of the mental barrel comes in...."
19. "We have never had the will to enforce the immigration laws. What you see is what you'll continue to get."
20. "Expect hogs to eat a lot more in the presence of a lot of hog wash."
21. "If you want good behavior, don't pay on a commission basis. Our judges aren't paid so much a case. We keep them pretty well isolated with a fixed salary. Judges in this whole thing have come out pretty well - there have been relatively few scandals."
22. "I think there's an awful lot of twaddle and bullshit on EVA. The whole game is to turn retained earnings into more earnings. EVA has ideas about cost of capital that make no sense. Of course, if a company generates high returns on capital and can maintain this over time, it will do well. But the mental system as a whole does not work."
23. "...People need to ask, "How do I play the hand that has been dealt me?" The world is not going to give you extra return just because you want it. You have to be very shrewd and hard working to get a little extra. It's so much easier to reduce your wants. There are a lot of smart people and a lot of them cheat, so it's not easy to win."
24. "One of the smartest things a person can do is dampen investment expectations, especially with Berkshire. That would be mature and responsible. I like our model and we should do nicely"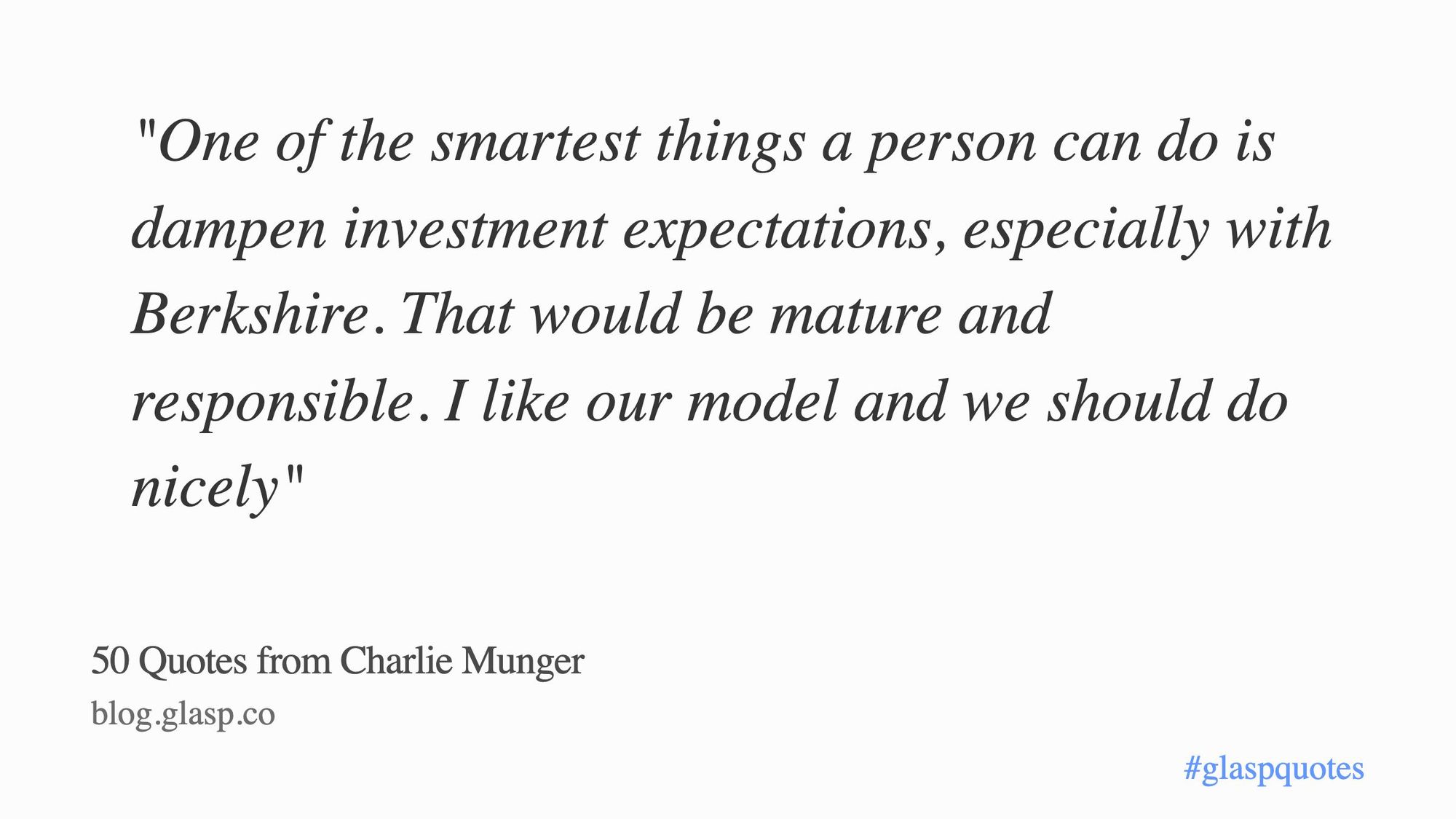 25. "A lot of share-buying, not bargain-seeking, is designed to prop stock prices up. Thirty to 40 years ago, it was very profitable to look at companies that were aggressively buying their own shares. They were motivated simply to buy below what it was worth."
26. "When it gets into these spikes, with shortages and uproar and so forth, people go bananas, but that's capitalism."
27. "I regard it as very unfair, but capitalism without failure is like religion without hell."
28. "Capitalism is a pretty brutal place."
29. "I call myself the assistant cult leader."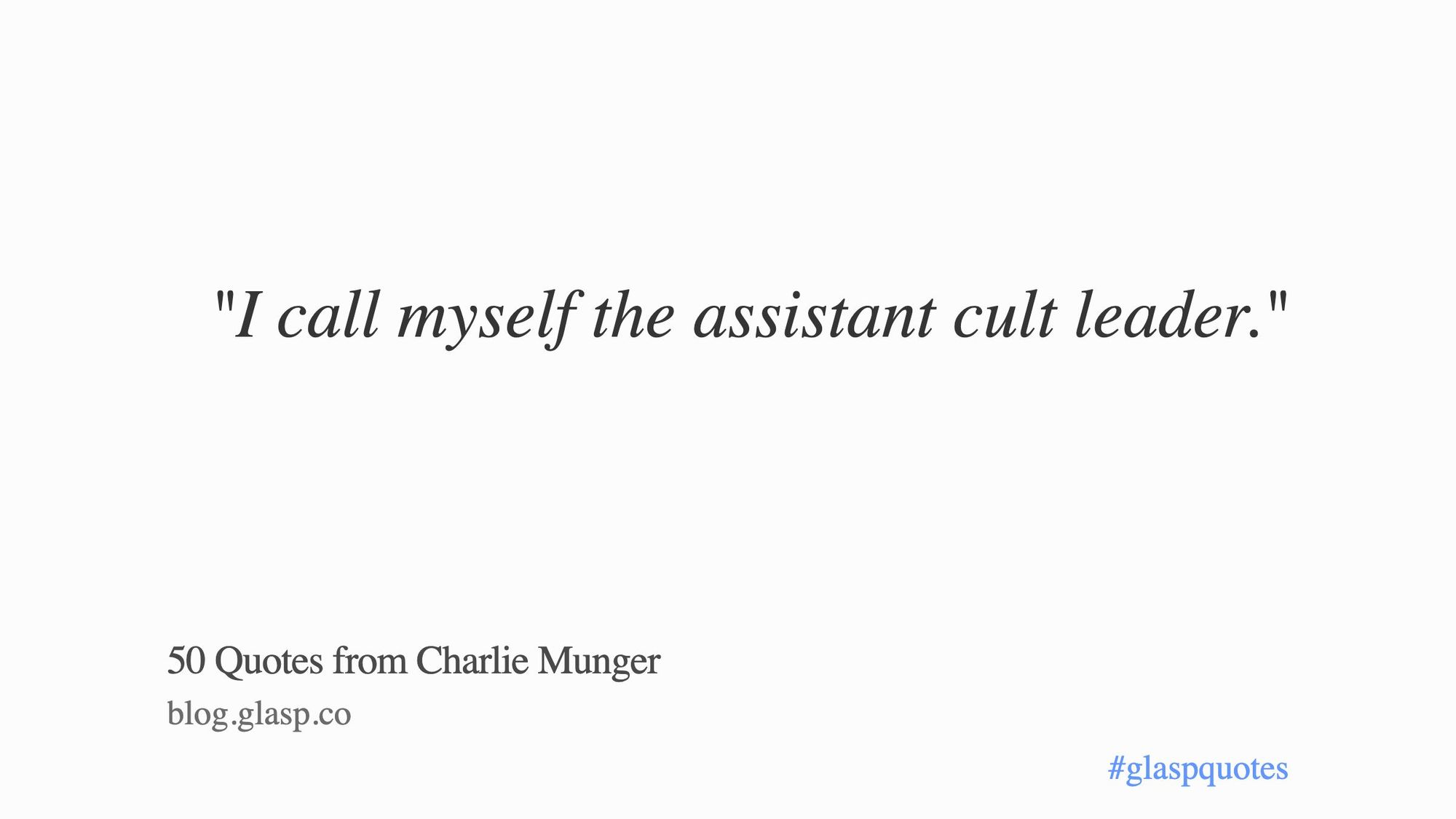 30. "At Berkshire Hathaway we do not like to compete against Chinese manufacturers."
31. "As I continued through Cicero's pages, I found much more material celebrating my way of life ..."
32. "Cicero's words also increased my personal satisfaction by supporting my long-standing rejection of a conventional point of view."
33. "When I run into a paradox I think either I'm a total horse's ass to have gotten to this point, or I'm fruitfully near the edge of my discipline. It adds excitement to life to wonder which it is."
34. "Another thing I think should be avoided is extremely intense ideology because it cabbages up one's mind. You see it a lot with T.V. preachers (many have minds made of cabbage) but it can also happen with political ideology. When you're young it's easy to drift into loyalties and when you announce that you're a loyal member and you start shouting the orthodox ideology out, what you're doing is pounding it in, pounding it in, and you're gradually ruining your mind. So you want to be very, very careful of this ideology. It's a big danger."
35. "Of course the self-serving bias is something you want to get out of yourself. Thinking that what's good for you is good for the wider civilization and rationalizing all these ridiculous conclusions based on this subconscious tendency to serve one's self is a terribly inaccurate way to think."
36. "Of course you want to drive that out of yourself because you want to be wise, not foolish. You also have to allow for the self-serving bias of everybody else because most people are not going to remove it all that successfully, the human condition being what it is. If you don't allow for self-serving bias in your conduct, again you're a fool."
37. "The total amount paid out in dividends is roughly equal to the amount lost in trading and investment advice, so net dividends to shareholders are zero. This is a very peculiar way to run a republic."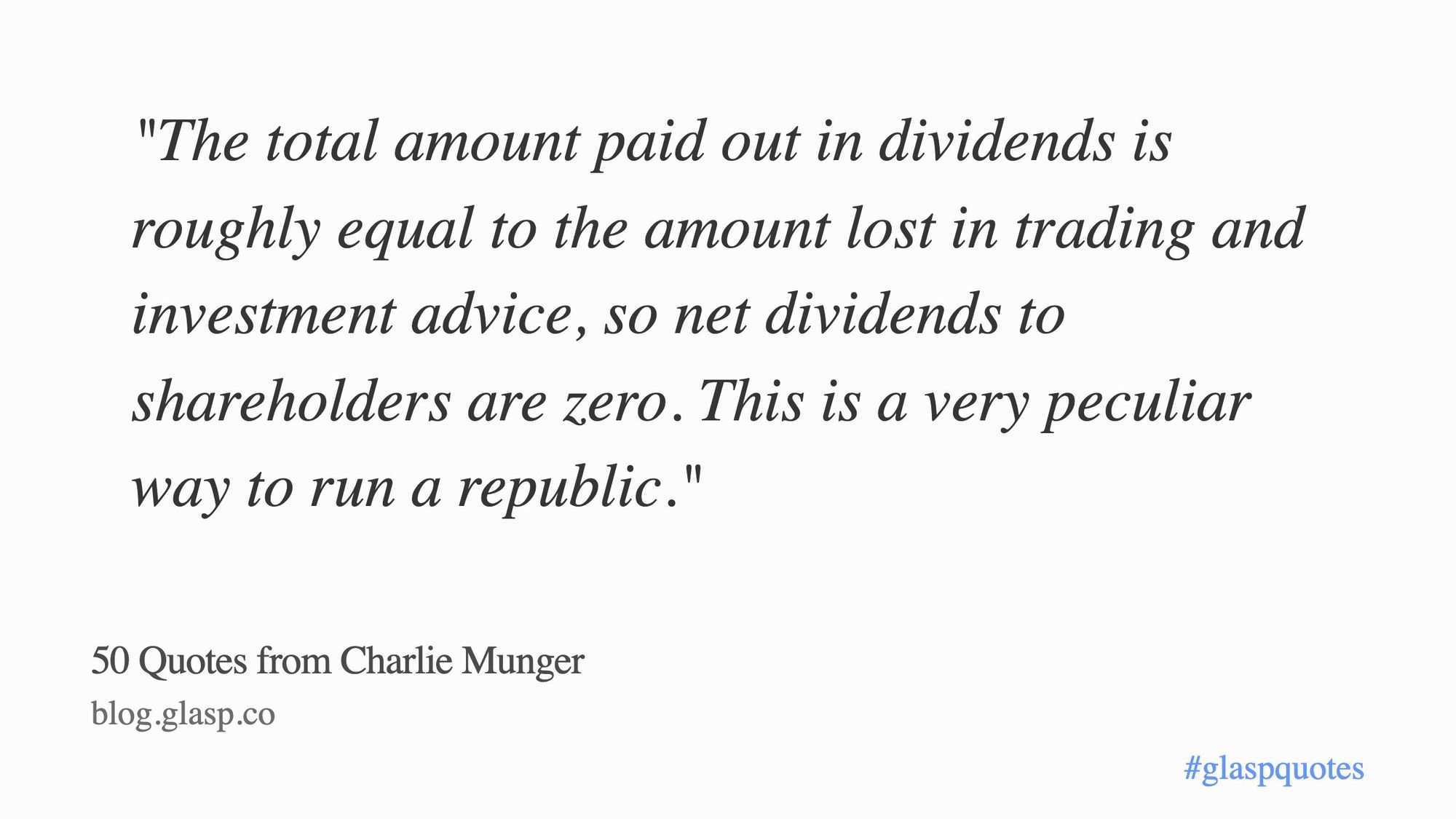 38. "I think it would be a great improvement if there were no D&O insurance . The counter-argument is that no-one with any money would serve on a board. But I think net net you'd be better off."
39. "It is an unfortunate fact that great and foolish excess can come into prices of common stocks in the aggregate. They are valued partly like bonds, based on roughly rational projections of use value in producing future cash. But they are also valued partly like Rembrandt paintings, purchased mostly because their prices have gone up, so far."
40. "If you're going to be an investor, you're going to make some investments where you don't have all the experience you need. But if you keep trying to get a little better over time, you'll start to make investments that are virtually certain to have a good outcome. The keys are discipline, hard work, and practice. It's like playing golf - you have to work on it."
41. "... some important factor doesn't lose its "share of force" just because some "expert" can better measure other types of force."
42. "If it happens every year like clockwork, what's so extraordinary about it?"
43. "Look at those hedge funds - you think they can wait? They don't know how to wait! I have sat for years at a time with $10 to $12 million in treasuries or municipals, just waiting, waiting...As Jesse Livermore said, 'The big money is not in the buying and selling...but in the waiting.'"
44. "Just keep your head down and do your best."
45. "It's a finite and very competitive world. All large aggregations of capital eventually find it hell on earth to grow and thus find a lower rate of return."
46. "Economists get very uncomfortable when you talk about virtue and vice. It doesn't lend itself to a lot of columns with numbers. But I would argue that there are big virtue effects in economics. I would say that the spreading of double-entry bookkeeping by the Monk, Fra Luce de Pacioli, was a big virtue effect in economics. It made business more controllable, and it made it more honest."
47. "Avoid evil, particularly if they're attractive members of the opposite sex."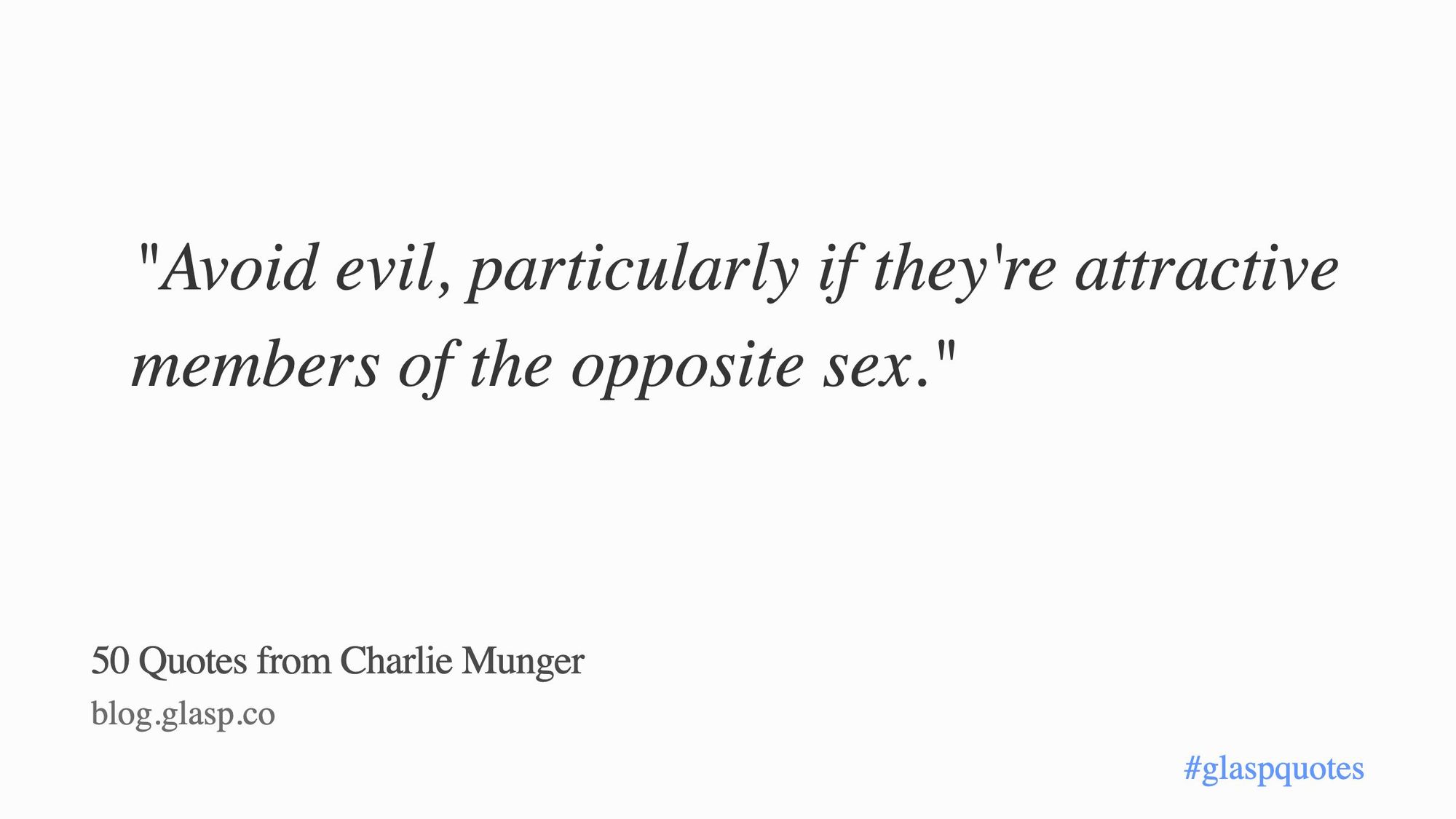 48. "The beauty of a financial institution is that there are a lot of ways to go to hell in a bucket. You can push credit too far, do a dumb acquisition, leverage yourself excessively - it's not just derivatives [that can bring about your downfall]."
49. "I think the main figure that matters to all of us, including people in the media, is: How does GDP per capita grow? And those figures have been very good. There is a huge flux both up and down, so it isn't like we're all static in status. What's important is that pie grows."
50. "The first rule is that you can't really know anything if you just remember isolated facts and try and bang 'em back. If the facts don't hang together on a latticework of theory, you don't have them in a usable form.... You may have noticed students who just try to remember and pound back what is remembered. Well, they fail in school and in life."