Glasp vs Readwise: Which Is the Best Knowledge Management Tool?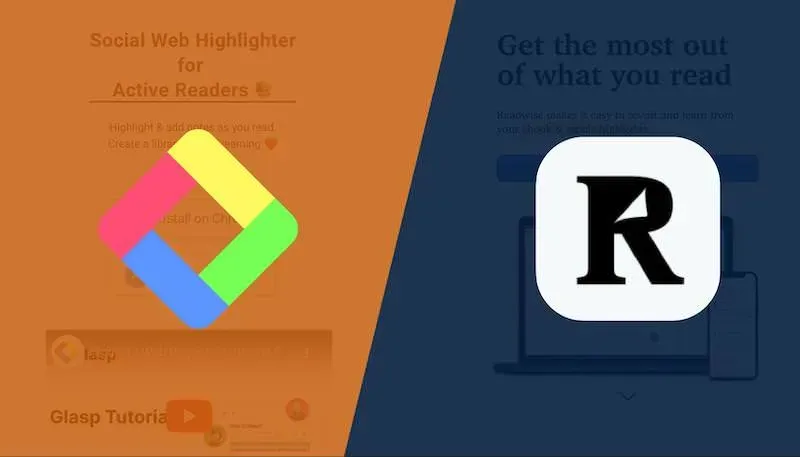 *This article was originally posted on Hongkiat.
A knowledge management tool is a tool that lets you store and organize important information. These tools also help you share information quickly, keep track of knowledge, and encourage innovation in your mind.
There are plenty of knowledge management tools on the market, with standing out in the crowd, Glasp, and Readwise.
While Readwise is one of the popular choices out there, it's not the only option. Glasp comes quickly from behind, and it may even surpass Readwise at times. Each tool has a different approach and product philosophy. Before you decide, I will compare these two products in detail to help you make a better decision with plenty of information.
Overview of Glasp and Readwise
Glasp
Glasp is a "social web highlighter" for the desktop. It means you can highlight web content such as web articles, PDFs, Kindle, and YouTube. And your knowledge is socially shared in the community so that others can learn from you as well as you learn from others.
Glasp supports many ways to export your contents as a file such as .html, .md, .png, and .txt.
Readwise
Readwise is a knowledge management tool focusing on importing and exporting digital content. It has a bunch of integrations with other applications such as iBooks, Instapaper, Kindle, etc. and it allows you to import and export your collections such as notes, highlights, tweets, etc.
If you've ever used a highlighter for the best quotes or highlights, Readwise does that for you, digitally.
To understand both apps well, this article discusses their features based on the following categories:
How to collect content,
Supported devices,
Export options,
How they help users learn and manage knowledge,
AI features, and
Unique features
How to collect content
Knowledge management is a place to collect and organize information. So, all knowledge management tools have common and unique ways to collect information.
Glasp
Glasp provides two ways to collect information on its platform. The first option is to highlight web content on your own. And this is their main feature. With their browser extension on the desktop, you can highlight web content such as web articles, PDFs, and YouTube videos, and you can add notes to each highlight and content.
The second way is to import from Kindle. If you highlight on Kindle ebooks, you'd have a lot of highlights on Kindle devices or apps. Glasp allows you to import Kindle highlights & notes into Glasp and you can organize your highlights there. You need a browser extension for this process, too.
While they accept many web contents, there's one thing you need to know: You should do it manually. It makes sense when you make highlights by yourself, but they don't support automatic import from Kindle apps that some other apps provide.
Readwise
They provide three ways to collect information as well. The first option is to import from other applications. And this is what makes them stand out in terms of the number of applications they support.
You can import highlights of Kindle and Apple Books, web highlights from Medium, Pocket, Instapaper, Hypothesis, Feedly, Raindrop, tweets, and transcripts of Podcasts through Snipd. And once you connect to their apps, Readwise does everything automatically.
The second way to collect information is to upload files. You can upload My Clippings.txt (Kindle highlights), emails, PDFs, and paper books with images.
And lastly, you can highlight web articles with their browser extensions as Glasp does. You can tag categories to each highlight and see it on their platform.
---
Supported devices
As a user, what devices you can use is one of the most important things to know. Because it directly determines what you can do and impacts productivity.
Glasp
Glasp is a desktop highlighting tool and you need a browser extension to make highlights or import content. As such, in terms of collecting information, you need to do it with the desktop. Right now, they support browser extensions for Chrome, Safari, Edge, Brave, Opera, and Vivaldi.
However, to see your or others' knowledge on the platform, you can see it with any device such as a desktop, tablet, or mobile.
It doesn't have a mobile or tablet app now. According to their website, an iOS mobile app is under development.
Readwise
To collect information, you can use a web application, a browser extension on a desktop, and a mobile/tablet application. And to see your content, you can use any browser on a mobile, tablet, desktop, and mobile/tablet application.
Its browser extension works on Chrome, Firefox, Edge, Brave, and Safari. And the mobile application is available both on App Store and PlayStore.
---
Export options
There are many concepts for knowledge management. One thing Glasp and Readwise have in common is that they are not permanent places where all the knowledge is stored or organized.
They both work in the middle layer of the workflow of knowledge management. They're not a place for discovering the information, nor saving all the knowledge, but the place for aggregating contents from various sources and exporting them into multiple formats and applications.
Glasp
Glasp supports three ways: Exporting as a file, copy-n-paste, and integration.
Your highlights from web content and Kindle are exported as files such as .txt, .html, .csv, .md, and .png. And you can export all of the highlights at once and one by one.
The second way is simple copy-n-paste. After you finish highlighting or importing web content, you can click the "copy content" button on the web page or the browser extension. It copies all the highlights and notes you made and metadata such as a title and a URL.
Glasp supports integration with Readwise. You can send your highlights from web content and Kindle to Readwise. This process is not automated, so you should do it manually when you make highlights.
Readwise
Readwise supports two ways: Integrations with other apps and export as a file. As for exporting notes, you can do it to Notion, Obsidian, Evernote, Roam, Logseq, RemNote, and Mailbrew. And once you connect Readwise with those applications, it's automated. You don't need to export them whenever you add content.
You can export your knowledge as a file. They have two formats such as .csv and .md.
---
How they help users learn and manage knowledge
In the paragraph above, I mentioned the common thing between Glasp and Readwise, but in this section, I introduce the difference in philosophy and approach between Glasp and Readwise. And this is the most stood out point for those two knowledge management platforms.
Before digging into the differences, let me point out their similarities, which they both capture and store the highlights. I think the highlight is the moment when something sparks in your mind.
Something is unnecessary to be understood at that moment, but it tells you something important or resonates with your mind. And later on, when you look back at or organize the highlights, they connect with information in your mind, and they become knowledge.
It takes time to convert a piece of information into knowledge. Therefore, it is necessary to save something that has caught your filter. At this point, it seems that both Glasp and Readwise have the same understanding.
Glasp
After understanding the importance of the highlights, let's look into the Glasp approach. Glasp allows you to capture the moment, save it, and organize it on your profile page. Also, they provide a way to see like-minded people's knowledge.
You can find the people who read the same article as you and see their notes, you can find like-minded people's reading articles, and you can find the most popular articles in each category.
They help you find other opinions and interests, keep you motivated, and connect with like-minded people to learn together. Also, you get a notification when your followers read the same article as you, which resurfaces the articles with serendipity.
After that, you can export your highlights and notes to note-taking apps such as Notion and Obsidian to write down and organize further. Also, they send you newsletters that might interest you twice a week and a weekly recap email to remember what you learned the week.
To sum up, they help you learn by keeping you motivated, exploring interests, and digging into a deep knowledge of others' opinions.
Readwise
Readwise, on the other hand, pursues a place where all the information is collected, and people can export their content to other note-taking apps seamlessly. I think this is because Readwise would think people get understood well when they sense-making on their own on note-taking apps.
Making highlights and looking back at them is crucial, but people comprehend them in depth when they organize them. So, they offer various features and cover many apps so that people can focus on more important things and decrease the time spent on unrelated things.
However, they offer some features on Readwise. The most stood out feature is a daily reminder email. Readwise selects important highlights and sends them to you via email.
You can choose the frequencies of each highlight and which books/articles you will get highlights from. Obviously, spaced repetition is effective for remembering what you learn. The more you see the highlights, the more you will likely understand and connect with your existing knowledge.
---
AI features
2022 was a year of generative AI. Many knowledge management tools created AI features to help users utilize them effectively. Integrating AI with the current knowledge management tool will be inevitable in 2023. In this section, I will introduce you to the AI features that they offer or will offer.
Glasp
It's interesting to look into Glasp's AI feature lists. They provide writing assistance, personalized summaries, YouTube summaries, and digital clones. According to Twitter, all the features are based on GPT-3 or ChatGPT.
As other writing assistance tools do, Glasp offers your writing assistance feature. When you want an idea for a sentence or paragraph, you can ask AI for suggestions. The personalized AI summary is an interesting feature of Glasp. Based on the content of the articles and your highlights, Glasp creates a summary of an article to fit you.
YouTube summary provides you with a summary of the YouTube video even before watching the video. You can determine if you'll watch the video by reading the summaries, therefore, you can save time dramatically. Digital clones would be the most attractive feature of Glasp.
It collects your highlights and notes, then offers a digital clone of you. It means you can ask any questions to your digital clone, and your AI will answer them. So, if your friends share their digital clones, you can ask them any questions they know well.
Readwise
Readwise recently released a new reader app called Readwise Reader (It's in a public beta version now), and you can use some AI features. You can summarize, translate, define, and generate flashcards for the web page you are reading without switching to another browser tab. They're trying to make Readwise AI "Copilot of Reading," so you will see many other features related to AI.
One of the most helpful features is to ask the document a question. Once you upload the document, it searches it and shows the answers after you input prompts.
For example, you can upload an esoteric legal document and ask questions about commercial real estate loans, then it extracts the sentences answering your question and generates sentences on the side. This feature is incredibly useful.
---
Unique features
As mentioned earlier, Glasp and Matter have unique features that help make them stand out from the rest of the crowd.
Glasp
Glasp is a community-based tool that can be used for individual purposes. Its wide variety of features based on most users' preferences makes it stand out. Apart from notes and highlights, it allows finding content from like-minded people. It even has a community page.
As Glasp tries to make a digital clone of himself, it's interesting to keep watching it. Eventually, there will be many digital clones of people, so you'll be able to ask Isaac Newton questions. And a digital clone of him answers your questions.
Readwise
It's also interesting to keep watching Readwise's use of AI and its features. Readwise seems to focus on increasing people's potential and productivity. Readwise will be the people's must-go place to search for what they read, learned, and wrote.
And Readwise will be not only the place to import and export content, but also the place to take notes, make a summary, define words, and simplify the complex language.
Unlike Glasp, you don't need to care about privacy. Everything you import and write is kept private and no one can see or access your knowledge. One thing to note is that Readwise is not free.
To keep using the tool for more than 30 days, you need to pay $4.49 or $7.99 a month. And if you don't pay, you cannot import and export content even if you saved it there. For the pricing, please look into the image below.
---
Should you use Glasp or Readwise?
Glasp and Readwise offer different features that depend on the user's preferences. It is best to take note of the features you need in a knowledge management app and make a choice from there.
If you prefer a social aspect, allowing you to share insights and learn from others, Glasp is a great option.
For those who prefer managing all of your knowledge seamlessly and keeping them private, Readwise is suited for this option.
*This article was originally posted on Hongkiat.