November 9, 2023: 50 Ideas That Changed My Life
"Ignorance is the cause of fear." ― Seneca
---
Hi friends,
How's everything going?
This is Kei and Kazuki, founders of Glasp 👋

We hand-picked 3 good articles for you to highlight this week. Hope they'll help you get new ideas and perspectives. (You can read this online!)
---
📚 3 Good Articles for You
Product-Led AI
by Seth Rosenberg (6 mins)
The article emphasizes backing founders who integrate AI into the core of their product development to revolutionize how we work and live.
There are significant opportunities for startups in AI-first networks, redefining enterprise software, and AI co-pilots in services that outpace incumbents' offerings.
Startups that leverage unique AI capabilities and data are positioned to disrupt existing markets and create new business models and categories.
Share: Tweet your learning
50 Ideas That Changed My Life
by David Perell (9 mins)
David Perell outlines 50 transformative ideas that emphasize thinking differently, challenging conventional wisdom, and prioritizing system optimization over individual brilliance.
Key concepts include inversion (focusing on avoiding harm rather than solely pursuing good), mimetic theory (our desires and conflicts are often imitative), and the importance of understanding constraints, paradoxes, and the counterintuitive in various aspects of life.
Perell encourages a mindset of looking for hidden simplicity, recognizing the potential in specificity, and the power of non-conformity to drive personal and professional growth.
Share: Tweet your learning
How to Be More Present
by Arlin Cuncic (6 mins)
Engaging fully with your immediate environment and focusing on one task at a time can help foster presence in the moment, reducing stress and enhancing life appreciation.
Practicing gratitude for current blessings, accepting life as it unfolds, and incorporating mindfulness meditation can increase present-moment awareness and overall well-being.
Limiting distractions from technology, practicing deep breathing exercises, engaging in regular exercise or yoga, and seeking positive social interactions support a more present-focused lifestyle.
Share: Tweet your learning
---
📣 Community
🟦 Community meetup:
We'll have a monthly community meetup at 9 am on November 10th (PST). We're looking forward to seeing you all! Please feel free to jump in and out. You can register for the event from here 🤝
🟨 Read5for5:
We're going to have the Read5for5 challenge in the week of November 13th! We will share the details this weekend. Let's read good articles and connect with like-minded people 📚
---
👀 Featured Curator on Glasp
Cody Frost
He learns and more! Let's follow her and learn together!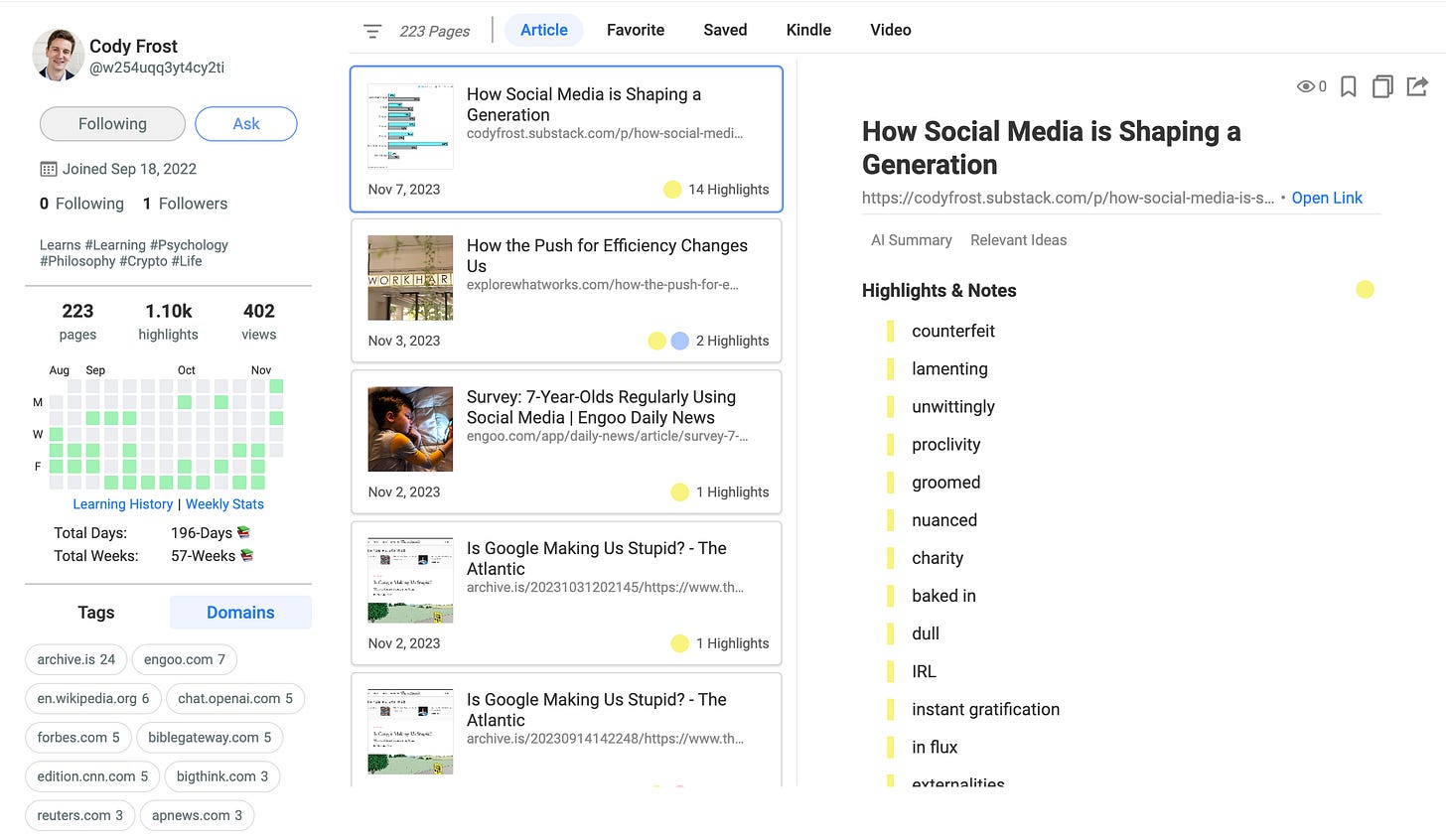 Please mention @Glasp and share your profile page on Twitter if you'd like to get featured!
---
❤️ Gratitude
We found some people who mentioned Glasp in their articles and blogs, and we appreciate all the kindness!
Thank you all for sharing and mentioning us on Twitter, LinkedIn, and/or in your blogs 🙂 We appreciate all of your support! Please feel free to ask us anything at any time! Also, feel free to join our Slack community ;)
Hope you enjoyed reading this newsletter!
See you next week ;)

Best,
Kei and Kazuki

--
---
Is Glasp helpful for you?