November 6, 2023: Smart Things I've Read Lately
"For to be free is not merely to cast off one's chains, but to live in a way that respects and enhances the freedom of others." ― Nelson Mandela
---
Hi friends,
How's everything going?
This is Kei and Kazuki, founders of Glasp 👋

We hand-picked 3 good articles for you to highlight this week. Hope they'll help you get new ideas and perspectives. (You can read this online!)
---
📚 3 Good Articles for You
Smart Things I've Read Lately
by Morgan Housel (4 mins)
Quotations in the text reflect on the nature of being wrong, the importance of being loved for who you are rather than what you have, and the idea that independence and character trump material success and competence.
The writers cited, including David McRaney, Warren Buffett, and Ernest Hemingway, offer insights on self-perception, the impact of wealth on relationships and medical care, and the deceptive nature of evil.
Themes include the illusory nature of nostalgia, the timelessness of writing that speaks to universal truths, the essence of creativity within constraints, and the profound difference between what one needs and what one acquires in life.
Share: Tweet your learning
Brain Training Doesn't Work
by Scott H. Young (4 mins)
Studies show brain training improves only task-specific performance, with little evidence it enhances overall cognitive abilities.
The "mind-muscle" analogy fails as mental skills don't generalize; improvements are seen only in tasks that share similar procedures and knowledge.
Broader education may increase intelligence by providing a wider range of cognitive tools, unlike narrow brain training exercises.
Share: Tweet your learning
Brand Dilution: How Strong Brands Lose Their Power (And How To Avoid It)
by Frontera (4 mins)
Brand dilution occurs when a strong brand expands its product line in ways that contradict its established image, as seen with Marlboro's introduction of light and menthol cigarettes, which weakened its "men's cigarette" identity and slowed its growth.
Rolex avoided dilution by creating Tudor, a separate brand for more affordable watches, thereby maintaining Rolex's luxury status while allowing Tudor to develop its own successful identity and market presence.
To prevent brand dilution, companies should maintain specificity and avoid negative associations; strong brands are intentional about their values and image, carefully managing customer touchpoints to protect their brand's integrity and believability.
Share: Tweet your learning
---
📣 Community
🟦 Community meetup:
We'll have a monthly community meetup at 9 am on November 10th (PST). We're looking forward to seeing you all! Please feel free to jump in and out. You can register for the event from here 🤝
🟨 Read5for5:
We're going to have the Read5for5 challenge in the week of November 13th! We will share the details this weekend. Let's read good articles and connect with like-minded people 📚
🟥 Save and search for chat history with ChatGPT:
Did you know that you can save and search for chat history with ChatGPT using Glasp? We published a tutorial article, so please check it out here 📚
---
👀 Featured Curator on Glasp
ahmad alghanam
He learns Web3, technology, and more! Let's follow her and learn together!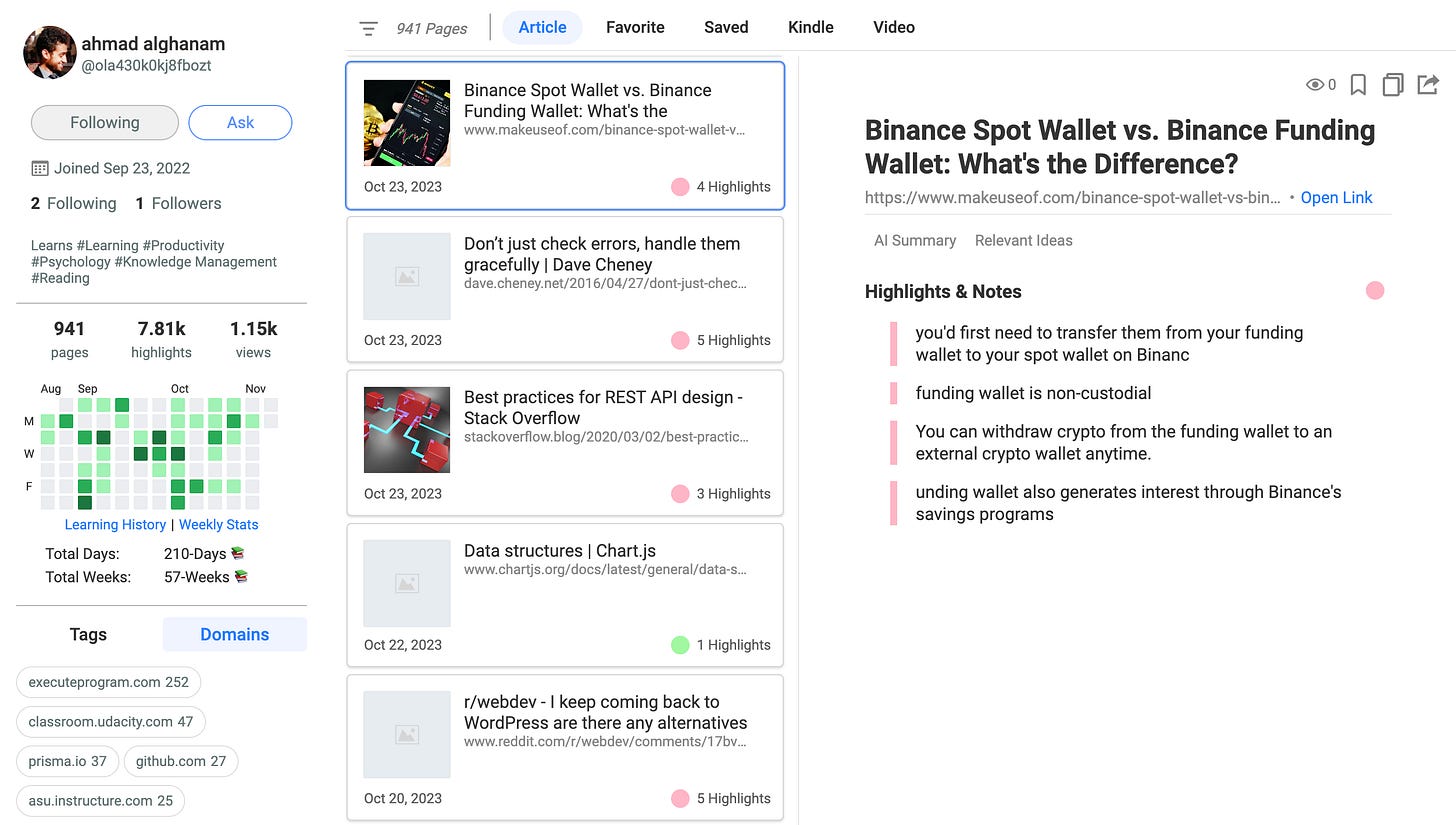 Please mention @Glasp and share your profile page on Twitter if you'd like to get featured!
---
❤️ Gratitude
We found some people who mentioned Glasp in their articles and blogs, and we appreciate all the kindness!
We found that Glasp was featured in the articles below. Thank you for writing about Glasp!
Thank you all for sharing and mentioning us on Twitter, LinkedIn, and/or in your blogs 🙂 We appreciate all of your support! Please feel free to ask us anything at any time! Also, feel free to join our Slack community ;)
Hope you enjoyed reading this newsletter!
See you next week ;)

Best,
Kei and Kazuki

--
---
Is Glasp helpful for you?