October 9, 2023: How to Take Smart Notes
"When things are a disappointment, try not to be so discouraged."

― Carol Burnett
---
Hi friends,
How's everything going?
This is Kei and Kazuki, founders of Glasp 👋

We hand-picked 3 good articles for you to highlight this week. Hope they'll help you get new ideas and perspectives. (You can read this online!)
---
📚 3 Good Articles for You
Speculative Fiction Writes the Future
by Eliot Peper (4 mins)
The present is where actions and decisions shape the future, and the future is limited by our imagination.
Speculative fiction explores "what if" scenarios through narrative storytelling, influencing our understanding of the world and inspiring curiosity.
Speculative fiction serves as a source of creativity and alternative perspectives, offering valuable insights for those shaping the future.
Share: Tweet your learning
Intelligent Life
by Rory O'Connell (16 mins)
Historically, intelligent artifacts were seen as mythical; today, AI developments challenge this view.
Modern AI is influenced by thinkers like Turing and is based on neural networks and big data.
There's debate over whether machines can truly replicate genuine human thought, raising ethical concerns.
Share: Tweet your learning
How to Take Smart Notes by Sonke Ahrens
by Lawson Blake (7 mins)
Introduces the Zettelkasten method by Niklas Luhmann, which focuses on interlinking individual ideas on index cards to enhance understanding and creativity.
The system emphasizes active note-taking, evolving external memory, and interconnectedness to spur new insights.
It offers an eight-step process, starting with initial note-taking, progressing to permanent notes in a slip-box, and culminating in using notes as a basis for structured writing.
Share: Tweet your learning
---
📣 Community
🟦 Community meetup:
We'll have a monthly community meetup at 10 am on October 13th (PDT). We're looking forward to seeing you all! Please feel free to jump in and out. You can register for the event from here 🤝
🟨 Launched on Product Hunt:
We launched our Kindle Daily Review on Product Hunt today! Please visit this page and upvote for us. Your upvote is a big help for us!
🟥 Read5for5:
We're going to have the Read5for5 challenge in the week of October 16th! We will share the details this weekend. Let's read good articles and connect with like-minded people 📚
---
👀 Featured Curator on Glasp
Thiény Konaté
He learns technology, life, commerce, and more! Let's follow her and learn together!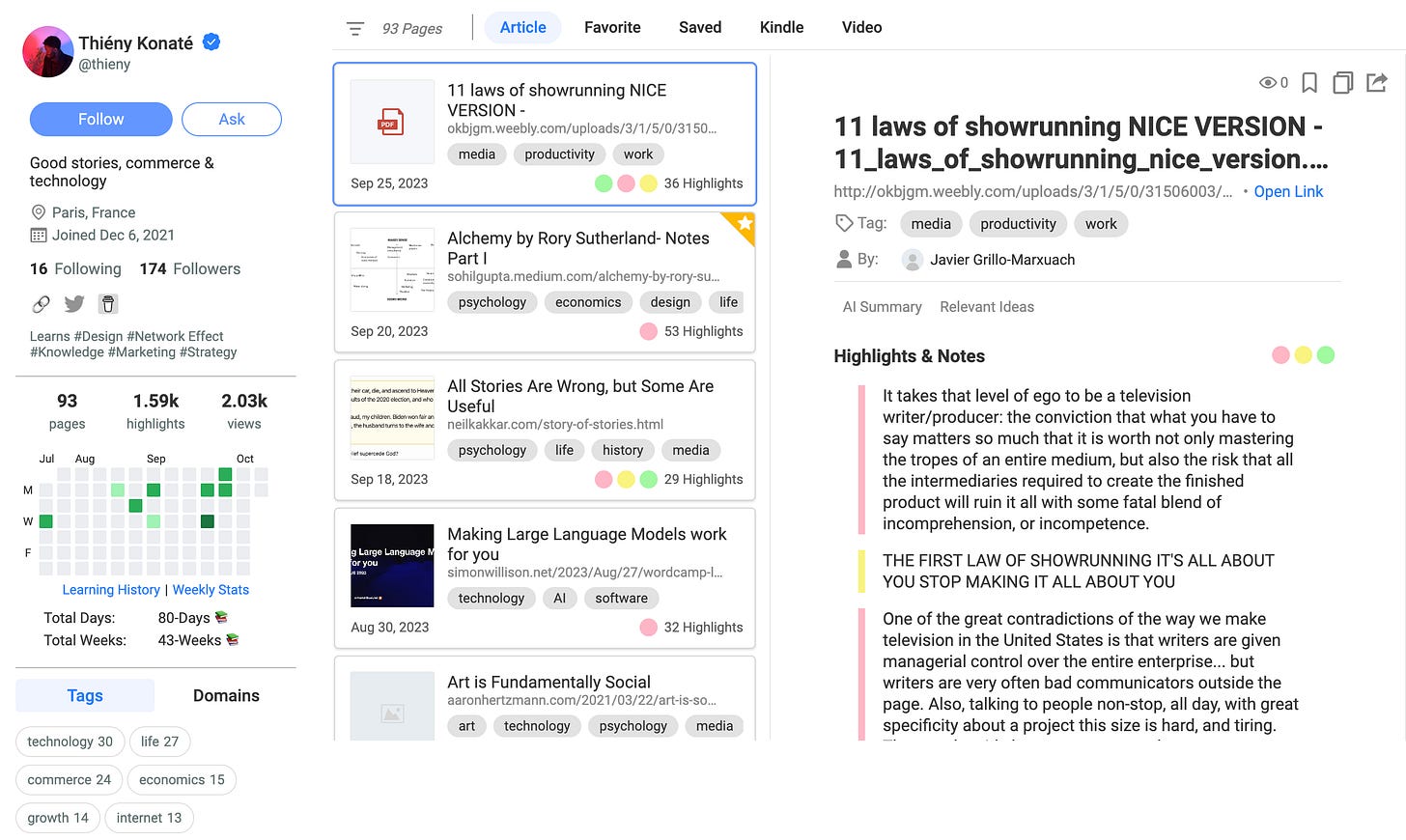 Please mention @Glasp and share your profile page on Twitter if you'd like to get featured!
---
❤️ Gratitude
We found some people who mentioned Glasp in their articles and blogs, and we appreciate all the kindness!
We found that Glasp was featured in the articles below. Thank you for writing about Glasp!
Thank you all for sharing and mentioning us on Twitter, LinkedIn, and/or in your blogs 🙂 We appreciate all of your support! Please feel free to ask us anything at any time! Also, feel free to join our Slack community ;)
Hope you enjoyed reading this newsletter!
See you next week ;)

Best,
Kei and Kazuki

--
---
Is Glasp helpful for you?