October 5, 2023: Mediocre Success Is Worse Than Outright Failure
"If it's hard do it hard. Nobody said it would be easy."

― Les Brown
---
Hi friends,
How's everything going?
This is Kei and Kazuki, founders of Glasp 👋

We hand-picked 3 good articles for you to highlight this week. Hope they'll help you get new ideas and perspectives. (You can read this online!)
---
📚 3 Good Articles for You
Mediocre Success Is Worse Than Outright Failure
by Abraham Thomas (3 mins)
Mediocre success creates ambiguity in startup experiments, making strategies unclear.
Clear distinctions between success and failure are essential for effective decision-making.
Startups should avoid the traditional temptation of consistent moderate success and aim for definitive results.
Share: Tweet your learning
A Few Things I'm Pretty Sure About
by Morgan Housel (2 mins)
Some people navigate uncertain futures better than others, and while money can bring happiness, its accompanying complexity can lead to unhappiness.
Strong beliefs often exist in areas with the most uncertainty, and endurance and a proper financial mindset are critical for success.
Despite many perceptions and beliefs, true laws in any field are rare, and a good idea will naturally flow in work, indicating its potential.
Share: Tweet your learning
Writing is a thinking tool
by Anne-Laure Le Cunff (5 mins)
Benefits of Writing: Enhances cognition by filtering information, improving understanding, and boosting memory.
Creativity and Connectivity: Fuels creativity through idea organization and strengthens community when shared.
Personal Writing Practice: Determine one's "Writing Ikigai" by identifying purpose, passion, and audience, and approach writing flexibly.
Share: Tweet your learning
---
📣 Community
🟥 Mobile app (iOS & Android) released:
We released a mobile app on iOS & Android finally! They have basic features now, but we're updating to have more features available on mobile apps. As it's an initial launch, it'd have some bugs. Please bear with us and report bugs from this link 🙏
 • 👉 Install the iOS app or Android app
 • 👀 Check tutorials: iOS or Android
🟦 Community meetup:
We'll have a monthly community meetup at 10 am on October 13th (PDT). We're looking forward to seeing you all! Please feel free to jump in and out. You can register for the event from here 🤝
🟨 Launched on Product Hunt:
We launched our Android mobile app on Product Hunt today! Please visit this page and upvote for us. Your upvote is a big help for us!
---
👀 Featured Curator on Glasp
Rosie Sherry
Rosie learns community, journalism, neurodiversity, and more! Let's follow her and learn together!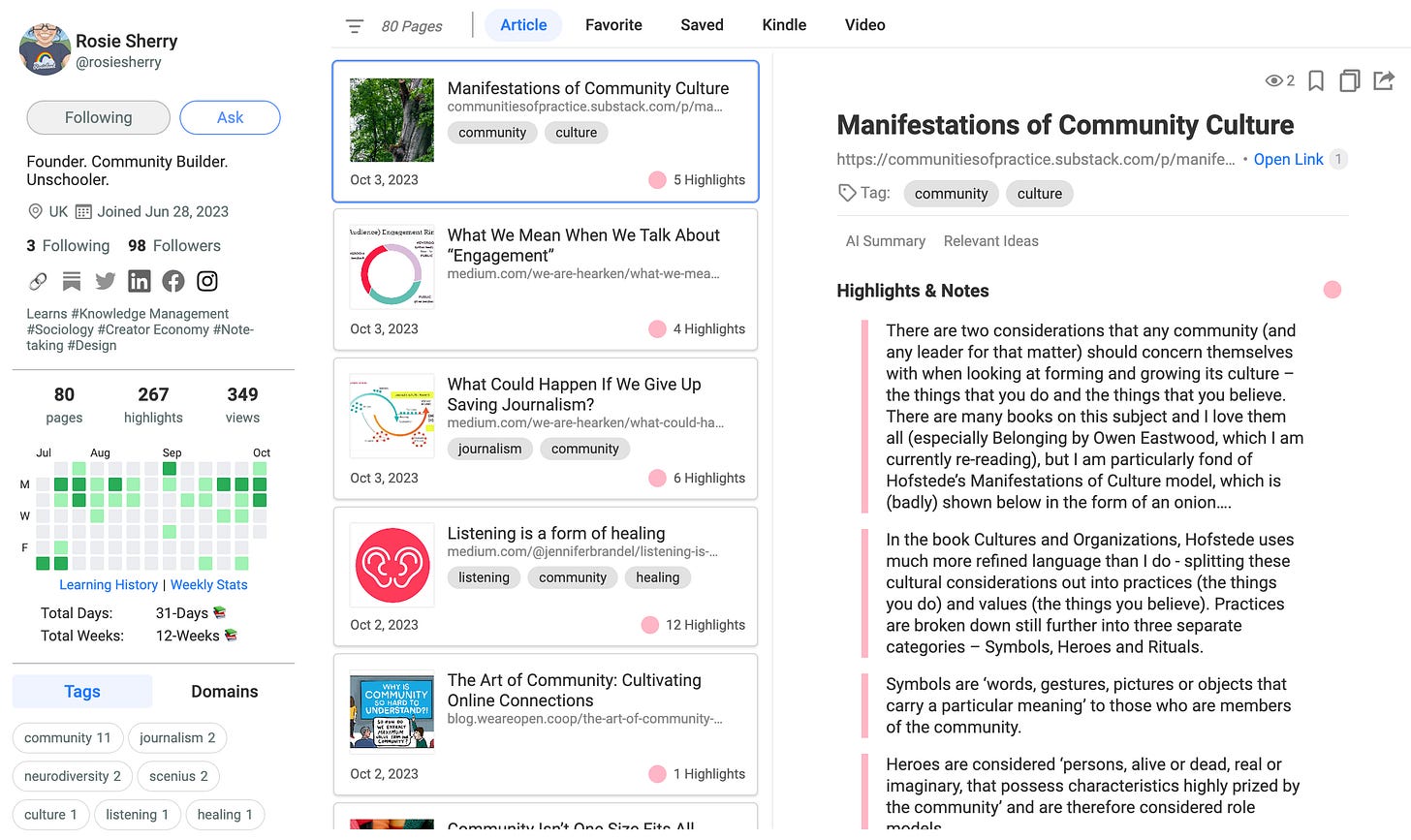 Please mention @Glasp and share your profile page on Twitter if you'd like to get featured!
---
❤️ Gratitude
We found some people who mentioned Glasp in their articles and blogs, and we appreciate all the kindness!
We found that Glasp was featured in the articles below. Thank you for writing about Glasp!
Thank you all for sharing and mentioning us on Twitter, LinkedIn, and/or in your blogs 🙂 We appreciate all of your support! Please feel free to ask us anything at any time! Also, feel free to join our Slack community ;)
Hope you enjoyed reading this newsletter!
See you next week ;)

Best,
Kei and Kazuki

--
---
Is Glasp helpful for you?