October 2, 2023: While Everyone Is Distracted By Social Media, Successful People Double Down On An Underrated Skill
"Love is an untamed force. When we try to control it, it destroys us. When we try to imprison it, it enslaves us. When we try to understand it, it leaves us feeling lost and confused."

― Paulo Coelho
---
Hi friends,
How's everything going?
This is Kei and Kazuki, founders of Glasp 👋

We hand-picked 3 good articles for you to highlight this week. Hope they'll help you get new ideas and perspectives. (You can read this online!)
---
📚 3 Good Articles for You
Think Deeper: Upgrade your HQ&A Notes with Up, Down, and Across (Pt 3)
by Jamie Miles (11 mins)
The "Highlight, Question, and Answer (HQ&A)" technique for note-taking can be enhanced by the "Up, Down, and Across" method, which provides different perspectives to analyze and understand text.
Using this method, readers can look at overarching ideas (Up), delve into specifics (Down), or find lateral connections (Across) to deepen comprehension and stimulate creative thinking.
As an example, HQ&A notes from Bill Gates' 2021 book "How to Avoid a Climate Disaster" were referenced, showcasing the technique's ability to extract nuanced insights from complex content.
Share: Tweet your learning
While Everyone Is Distracted By Social Media, Successful People Double Down On An Underrated Skill
by Michael Simmons (19 mins)
Info-Apocalypse Issues: Modern challenges like content overload and echo chambers drown meaningful insights.
Breakthrough Knowledge: Transformative insights, unlike regular knowledge, can change core beliefs.
Navigating the Noise: Using mental models and discerning biases can help find valuable information amidst distractions.
Share: Tweet your learning
The Value Chain of Capital
by Kyle Harrison (13 mins)
The "Value Chain of Capital" examines the patterns and dependencies in venture capital (VC) funding, using Instacart's capital trajectory as a case study.
Despite Instacart's early success, later investment rounds post-2014 failed to surpass S&P 500 returns. The company's dependency on subsequent capital rounds became evident, as they needed at least ~$1.8B to deliver returns to early investors.
The VC world exhibits a "capital value chain" pattern where early investors' successes are reliant on later-stage investments, suggesting the possibility of unsustainable business models driven by an ever-increasing appetite for capital.
Share: Tweet your learning
---
📣 Community
🟥 Mobile app (iOS & Android) released:
We released a mobile app on iOS & Android finally! They have basic features now, but we're updating to have more features available on mobile apps. As it's an initial launch, it'd have some bugs. Please bear with us and report bugs from this link 🙏
• 👉 Install the iOS app or Android app
• 👀 Check tutorials: iOS or Android
---
👀 Featured Curator on Glasp
Ali Abid
He learns AI, lifestyles, productivity, and more! Let's follow him and learn together!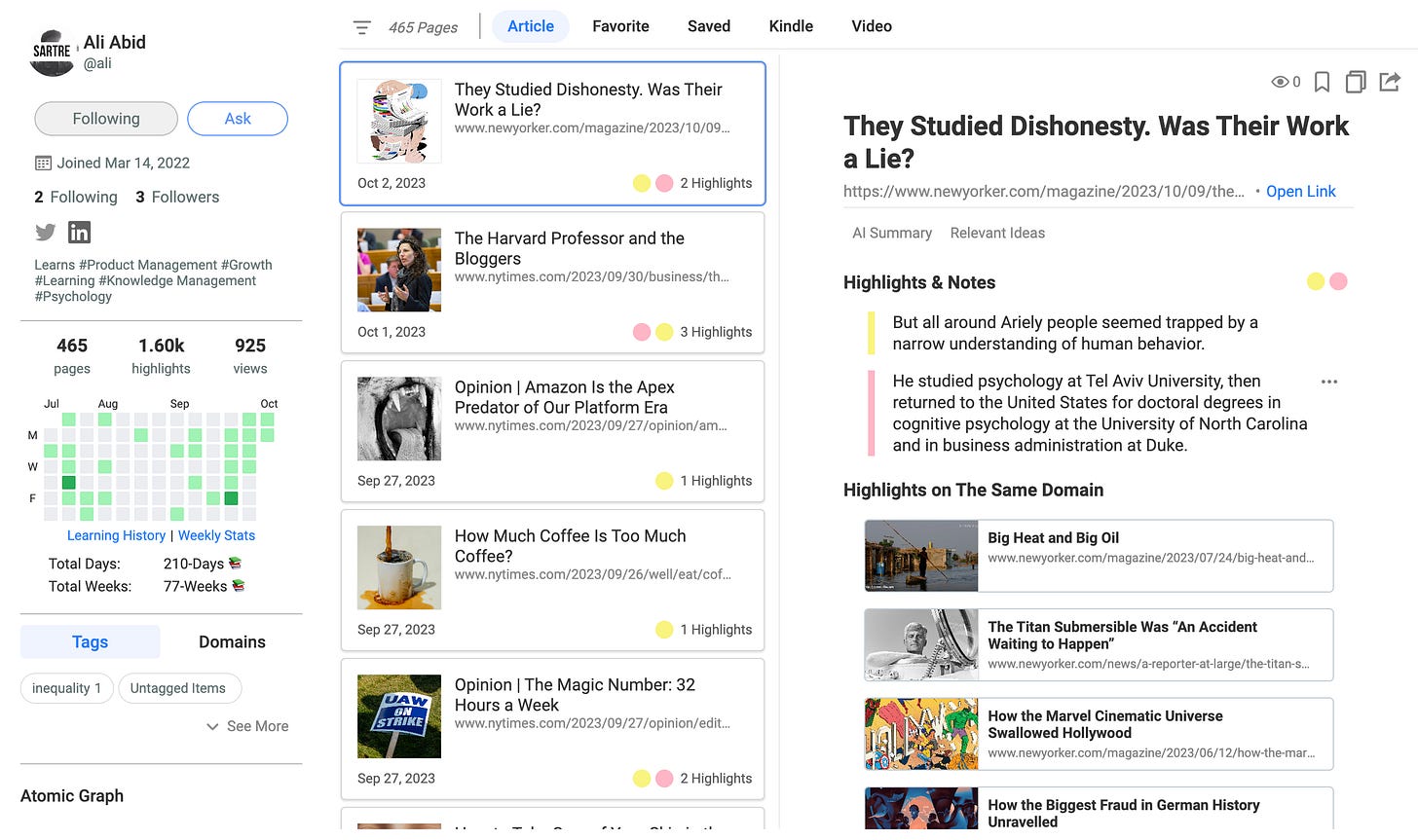 Please mention @Glasp and share your profile page on Twitter if you'd like to get featured!
---
❤️ Gratitude
We found some people who mentioned Glasp in their articles and blogs, and we appreciate all the kindness!
We found that Glasp was featured in the articles below. Thank you for writing about Glasp!
Thank you all for sharing and mentioning us on Twitter, LinkedIn, and/or in your blogs 🙂 We appreciate all of your support! Please feel free to ask us anything at any time! Also, feel free to join our Slack community ;)
Hope you enjoyed reading this newsletter!
See you next week ;)

Best,
Kei and Kazuki

--
---
Is Glasp helpful for you?