Press Release on 10/11/2023
FOR IMMEDIATE RELEASE

Glasp Inc.

kei@glasp.co
---
Glasp Unveils The World's First AI-Powered Personality Analysis Feature Based on Kindle Books Read
Glasp also makes it easier for Kindle users to import & export all the highlights with one click for free.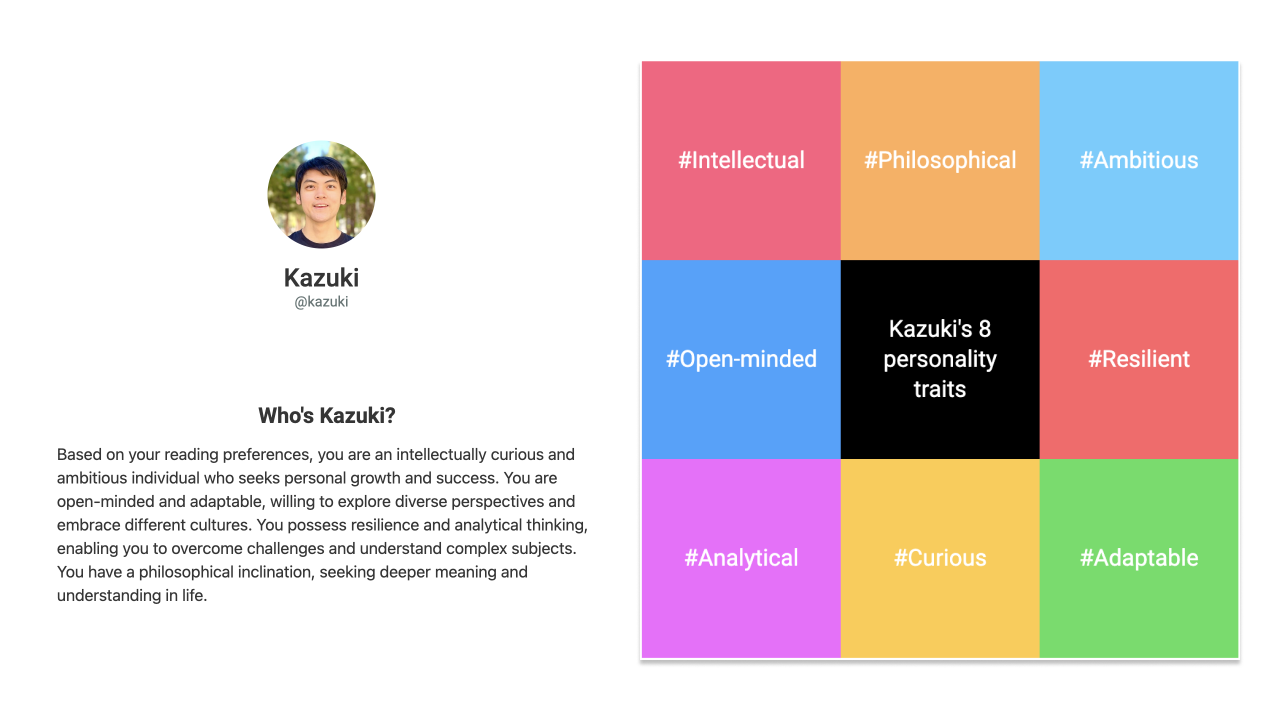 SAN FRANCISCO (Oct. 11, 2023) ― Glasp, the San Francisco-based developer of the web highlighter that lets you easily mark digital content, compile reading notes, and share them with the world, has released a new feature that analyzes people's personality based on the titles of books from Kindle. Readers can discover eight personality tendencies common to those who have read those books.
The personality analysis uses only the titles of Kindle books, taking into consideration the copyright of the books. According to the company, while AI-driven personality and trend analyses exist, this is the world's first feature that determines personality traits from the books one reads using AI.
"We read so many books, and we thought it would be an interesting feature to know what kind of personality tendencies we have from those books. Instead of just ending with reading a book, we hope it can be a catalyst to apply what's learned next," commented Kazuki Nakayashiki, the CEO of Glasp.
"Reading books leads to mental stability and is important for enhancing thinking skills. In recent years, the time Americans spend reading books has decreased, and instead, the time spent on short videos has increased. It's not that short videos are bad, but there is great value in having the opportunity to engage in dialogue with the thoughts left behind by our predecessors through books. It would be good if our new technology could contribute," commented Kei, the Co-founder of Glasp.
The feature doesn't just stop at personality analysis. Subsequently, users can batch export all the highlights they've imported from Kindle. Available export formats include copy-paste, text files, MD files, and HTML files.
The company has expressed interest in supporting platforms beyond Kindle, such as Apple Books and Kobo, in the future. Additionally, they indicated the potential to evolve the personality analysis feature to offer more detailed analyses based on past reading histories and to facilitate interactions between users with similar personality traits.
About Glasp (Web Highlighter)
Glasp is the brainchild of the company's co-founder and CEO Kazuki Nakayashiki who suffered a stroke and became paralyzed in one side of his body at age of 20. Fearful that all his life's learning would instantly vanish should he die, the University of Tokyo-educated chemical engineer joined forces with his best friend, Kei Watanabe, to develop a "social learning log" system that enables him and everyone else to share their thoughts and insights. Glasp is designed to democratize access to learning by bringing together people of all backgrounds.
* Highlights are posted on individual users' pages automatically, enabling their followers to see the highlights and attached notes.
About Glasp Inc.
Glasp is a San Francisco-based developer of web applications that make digital learning and information gathering easier. The company's flagship application, Glasp, has acquired more than 200,000 users worldwide since the Chrome extension launched in December 2022. Glasp also develops a Chrome extension that uses ChatGPT to summarize YouTube video contents, which has been installed 1 million times in the past 8 months.
###