October 12, 2023: Pruning to Make Space for More
"We are what we repeatedly do."― Aristotle
---
Hi friends,
How's everything going?
This is Kei and Kazuki, founders of Glasp 👋

We hand-picked 3 good articles for you to highlight this week. Hope they'll help you get new ideas and perspectives. (You can read this online!)
---
📚 3 Good Articles for You
Pruning to Make Space for More
by Deb Liu (6 mins)
The author reflects on the value of quitting or "pruning" aspects of one's life that no longer serve them, likening it to the necessary act of pruning trees for their health and growth.
While perseverance and tenacity can be strengths, there comes a point where holding onto old habits or fears can hinder personal growth and well-being.
Embracing change, even if it feels like "quitting", can lead to newfound freedom, fulfillment, and growth, allowing individuals to prioritize what truly matters in their lives.
Share: Tweet your learning
Liminal Creativity
by Anne-Laure Le Cunff (8 mins)
Liminality Defined: Liminality is the ambiguous phase during transitions, present in individuals, places, and societies.
Effects of Liminal Spaces: These spaces can cause discomfort but also foster growth and creativity.
Harnessing Liminal Creativity: To capitalize on this potential, embrace overlaps in thought, confront fears, and document the transformational journey.
Share: Tweet your learning
The top metrics for vertical SaaS companies
by CJ Gustafson (13 mins)
Vertical vs. Horizontal SaaS: Vertical SaaS targets specific industries with unique solutions, whereas Horizontal SaaS serves a broad audience across industries.
Key Vertical SaaS Metrics:

AOV (Average Order Value): Average revenue per transaction.
ARPU (Average Revenue per User): Total revenue from each customer.
Product Attach Rate: Number of products sold to each customer, emphasizing cross-selling.

Vertical SaaS Opportunity: These companies can corner niche markets, leading to strong unit economics and long-term market dominance, while leveraging multi-product strategies.
Share: Tweet your learning
---
📣 Community
---
👀 Featured Curator on Glasp
Eunice
She learns medical, psychology, finance, and more! Let's follow her and learn together!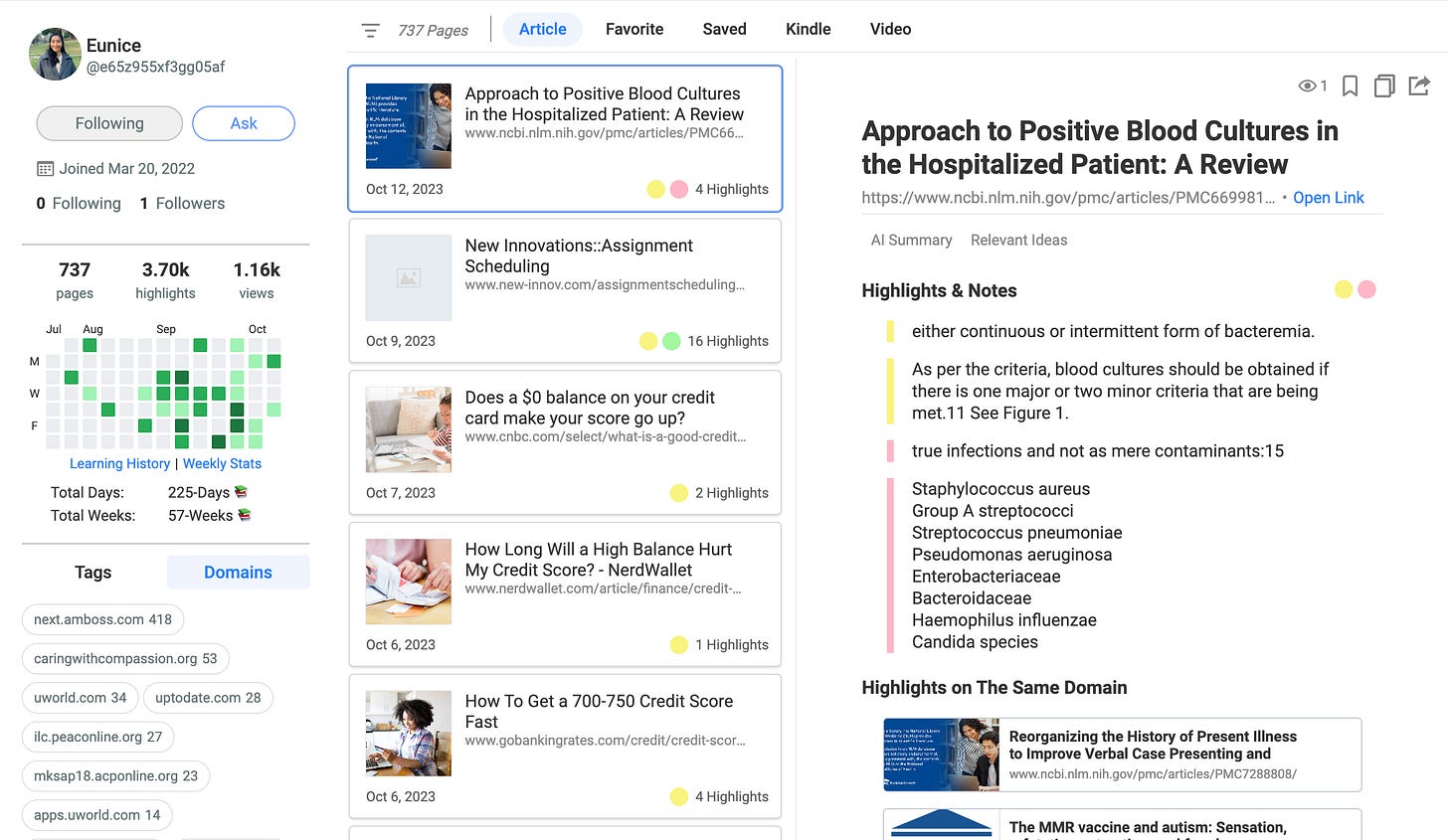 Please mention @Glasp and share your profile page on Twitter if you'd like to get featured!
---
❤️ Gratitude
We found some people who mentioned Glasp in their articles and blogs, and we appreciate all the kindness!
We found that Glasp was featured in the articles below. Thank you for writing about Glasp!
Thank you all for sharing and mentioning us on Twitter, LinkedIn, and/or in your blogs 🙂 We appreciate all of your support! Please feel free to ask us anything at any time! Also, feel free to join our Slack community ;)
Hope you enjoyed reading this newsletter!
See you next week ;)

Best,
Kei and Kazuki

--
---
Is Glasp helpful for you?