October 23, 2023: The days are long but the decades are short
"Wise men speak when they have something to say, fools speak because they have to say something." ― Aristotle
---
Hi friends,
How's everything going?
This is Kei and Kazuki, founders of Glasp 👋

We hand-picked 3 good articles for you to highlight this week. Hope they'll help you get new ideas and perspectives. (You can read this online!)
---
📚 3 Good Articles for You
Perception Is Reality
by Deb Liu (7 mins)
Varied Personal Interpretations: Even in shared environments, like the two siblings' childhoods, individuals can perceive and remember events differently.
Factors Influencing Views: People's perceptions are molded by personal experiences, biases, and reactions, leading to divergent interpretations of the same event.
Navigating Differences: Active listening, factual evidence, and open-mindedness can help reconcile contrasting viewpoints, promoting better understanding and collaboration.
Share: Tweet your learning
The AI-First Marketplace
by Pete Flint (13 mins)
AI as a Game-Changer: AI is reshaping the marketplace landscape, bringing opportunities for startups and challenges for incumbents.
AI's Dual Role: AI can both unlock new supply sources through automation and enhance demand by improving user experience.
Opportunities Ahead: AI offers chances to create new marketplaces, challenge established players, and develop secondary AI-driven markets.
Share: Tweet your learning
The days are long but the decades are short
by Sam Altman (5 mins)
Value Relationships and Time: Prioritize close relationships over acquaintances, ensure you maintain connections, and remember that time is limited and precious.
Work and Personal Growth: Choose work you're passionate about, push yourself towards excellence, minimize distractions, and constantly learn and seek new experiences.
Life Philosophy and Perspective: Embrace opportunities even if they come with risks, avoid chasing empty status, stay grounded and grateful, and recognize that life will have its highs and lows but it's essential to maintain perspective and empathy.
Share: Tweet your learning
---
📣 Community
🟥 YouTube Summary with ChatGPT & Claude:
We updated the YouTube Summary with ChatGPT & Claude: You can have custom follow-up prompts, multiple lines in the custom prompt, and summarize PDF. Please check this video to see how it works.
🟦 Read5for5:
We had the Read5for5 reading challenge last week! And we saw many learners joining and sharing the challenge! Thank you for learning with us 📚 Please look at this page for all the articles in the challenge.
🟨 Launched on Product Hunt:
We launched our PDF Summary on Product Hunt today! Please visit this page and upvote for us. Your upvote is a big help for us!
---
👀 Featured Curator on Glasp
Efi Pylarinou
She learns fintech, finance, and more! Let's follow her and learn together!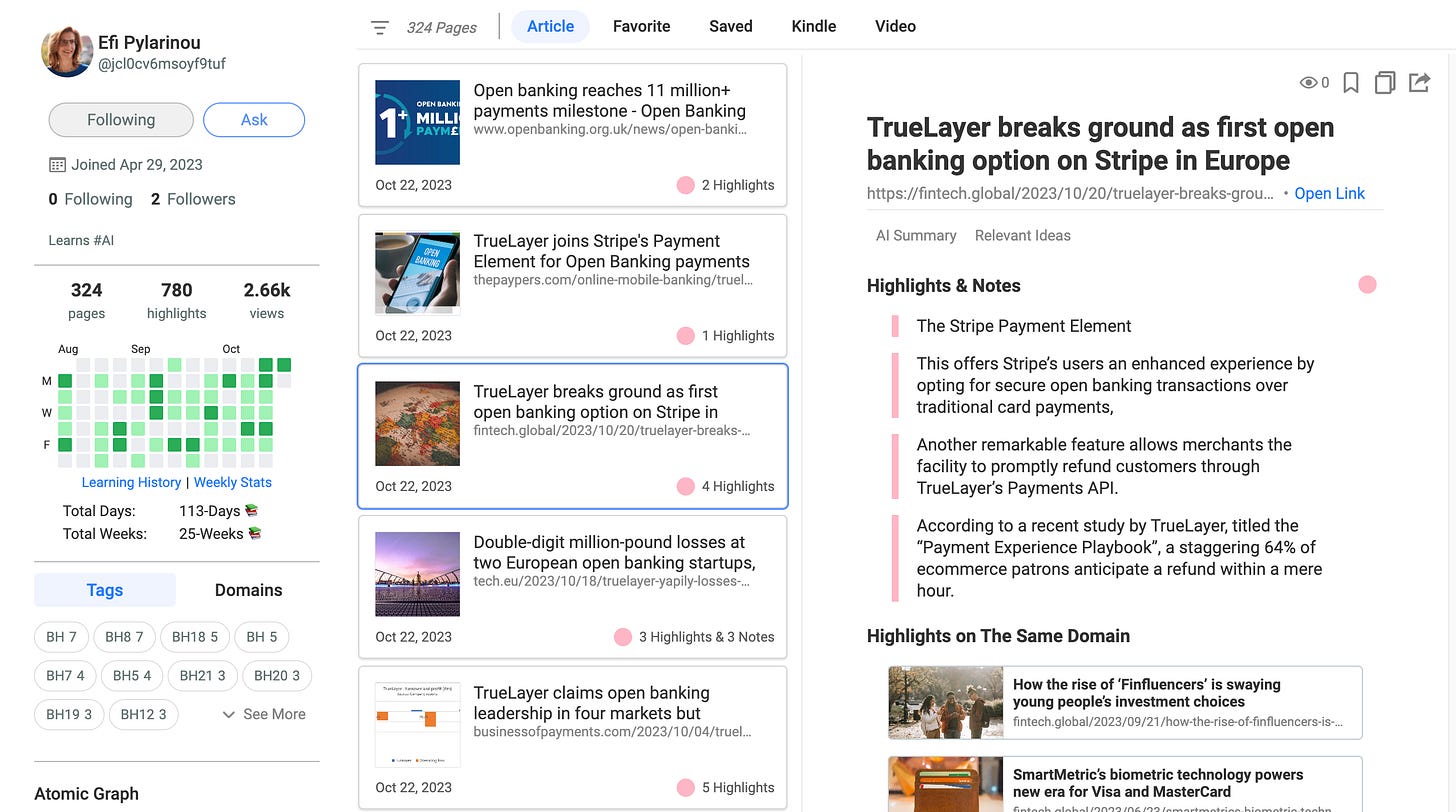 Please mention @Glasp and share your profile page on Twitter if you'd like to get featured!
---
❤️ Gratitude
We found some people who mentioned Glasp in their articles and blogs, and we appreciate all the kindness!
We found that Glasp was featured in the articles below. Thank you for writing about Glasp!
Thank you all for sharing and mentioning us on Twitter, LinkedIn, and/or in your blogs 🙂 We appreciate all of your support! Please feel free to ask us anything at any time! Also, feel free to join our Slack community ;)
Hope you enjoyed reading this newsletter!
See you next week ;)

Best,
Kei and Kazuki

--
---
Is Glasp helpful for you?