September 28, 2023: Note-taking Lessons From America's Greatest Biographer
"Blindness separates people from things; deafness separates people from people."

― Helen Keller
---
Hi friends,
How's everything going?
This is Kei and Kazuki, founders of Glasp 👋

We hand-picked 3 good articles for you to highlight this week. Hope they'll help you get new ideas and perspectives. (You can read this online!)
---
📚 3 Good Articles for You
Note-taking Lessons From America's Greatest Biographer
by Jillian Hess (7 mins)
Robert Caro is celebrated for his meticulous research and detailed biographical writing, often taking a decade per book.
Caro employs rigorous note-taking, outlining, and interviewing techniques, ensuring accuracy and depth in his narratives.
The New-York Historical Society exhibits Caro's work process, but it largely overlooks the significant contributions of his wife, Ina.
Share: Tweet your learning
Getting to 19,000 monthly clicks: Everything I've learned about SEO as a beginner
by Lior Neu-ner (5 mins)
The author grew Remote Rocketship to 19,000 monthly clicks through a concentrated effort on SEO.
Main SEO strategies include: on-page optimization, topical relevance, and building trust with backlinks.
Utilized programmatic SEO and AI tools like ChatGPT to target a wider variety of keywords and generate content.
Share: Tweet your learning
How to conquer digital distractions
by Christina Marfice (8 mins)
Digital Distractions Pervasive: Remote workers face increasing digital interruptions, diminishing work productivity and personal enjoyment.
Engineered Addictiveness: Digital platforms, like smartphones and social media, are designed to be addictive, hindering genuine human interactions.
Management Techniques: Combat distractions by controlling notifications, scheduling "distraction breaks", and occasionally unplugging for focused work.
Share: Tweet your learning
---
📣 Community
🟥 Mobile app (iOS & Android) released:
We released a mobile app on iOS & Android finally! They have basic features now, but we're updating to have more features available on mobile apps. As it's an initial launch, it'd have some bugs. Please bear with us and report bugs from this link 🙏
 • 👉 Install the iOS app or Android app
🟦 Launched on Product Hunt:
We launched our iOS mobile app on Product Hunt today! Please visit this page and upvote for us. Your upvote is a big help for us!
🟩 Kindle Import & Daily Reviews:
Do you want to remember what you read in books and get highlights resurfaced? We released a new feature that sends you a daily review of the books based on your highlights from Kindle 📚 Check out this page, import your Kindle highlights, and get smarter.
---
👀 Featured Curator on Glasp
Adel Zaalouk
He learns business model, knowledge, product management, and more! Let's follow him and learn together!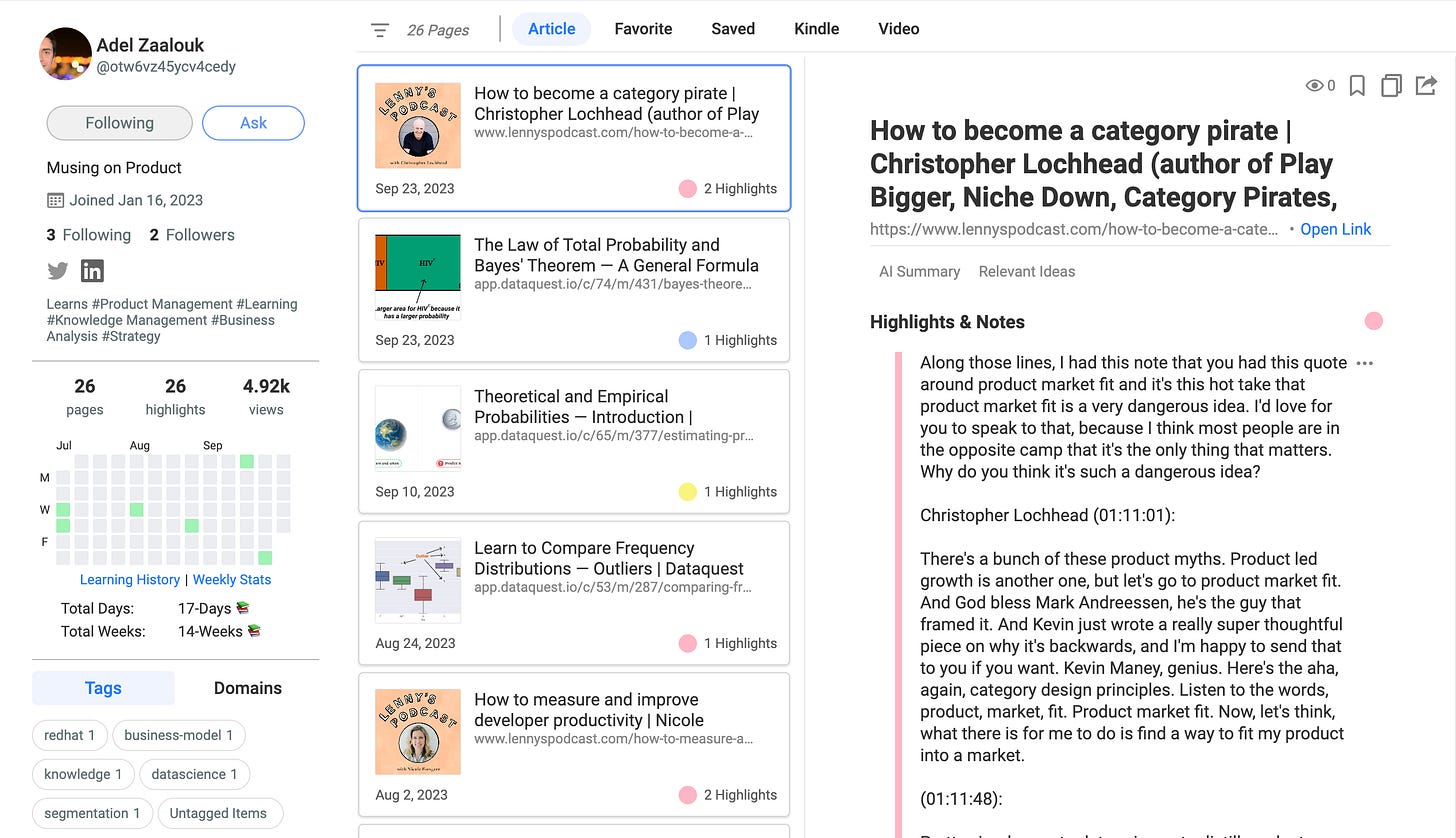 Please mention @Glasp and share your profile page on Twitter if you'd like to get featured!
---
❤️ Gratitude
We found some people who mentioned Glasp in their articles and blogs, and we appreciate all the kindness!
Thank you for reviewing and rating the Glasp extension on the Chrome Web Store ❤️ We appreciate your support so much! If you have time to review it, please visit this page and rate us 🙏
We found that Glasp was featured in the articles below. Thank you for writing about Glasp!
Thank you all for sharing and mentioning us on Twitter, LinkedIn, and/or in your blogs 🙂 We appreciate all of your support! Please feel free to ask us anything at any time! Also, feel free to join our Slack community ;)
Hope you enjoyed reading this newsletter!
See you next week ;)

Best,
Kei and Kazuki

--
---
Is Glasp helpful for you?