How to embed Glasp highlights on note-taking apps & websites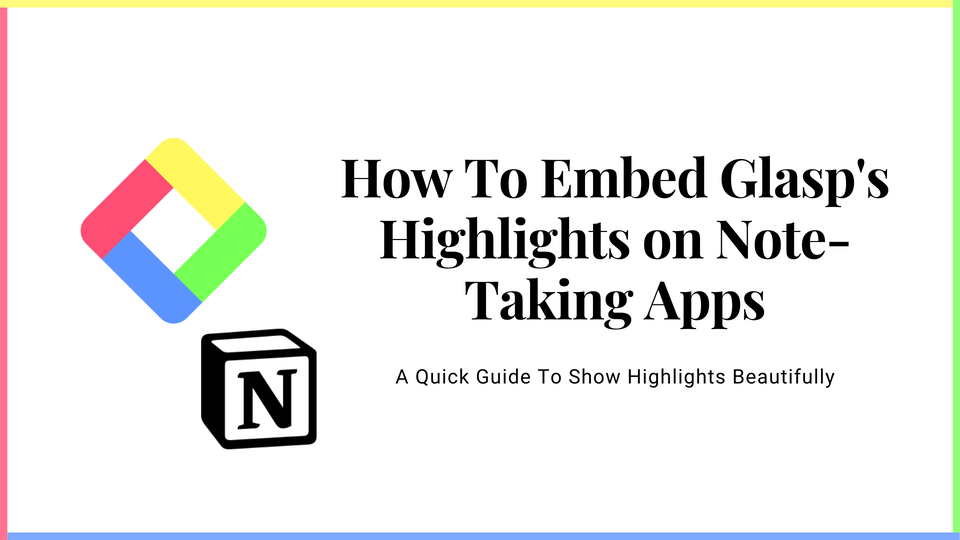 If you haven't signed up for Glasp or installed the Glasp browser extension, please do so. You can refer to this tutorial.
Step 1: Open and highlight an article
Open any article you want and start highlighting sentences you resonate with. When you select a sentence, you can see a popup showing up, so please click any color you want.
---
Step 2: Go to My Highlights page
Please open the Glasp page. You're on the Home feed now, so go to the My Highlights page by clicking at the top left.
---
Step 3: Get Highlight Embed Code
On each highlight on the My Highlights page, you can see three dots button. Please click it. It shows a menu to take each action.
To embed the highlight, select Copy Highlight Embed Code.
---
Embedding Options
To embed the highlight, you can basically paste the code you copied. But the flow slightly differs depending on note-taking apps, so I'll show two main note-taking apps.
Obsidian
When you want to show the Glasp's highlights as a card on Obsidian. You can just paste the link. The default link uses iframe by default, so it looks like below.
Then, when Obsidian recognizes the link, it shows like below. If you'd like to change the size of the card, please update the width and height.
Note: Obsidian doesn't accept a-tag, so See More Highlights doesn't work on Obsidian.
Notion
When you want to show highlights on Notion, you need to edit the iframe code. After pasting the embedding code, please extract the link part.
Delete the iframe part, paste the link again, and choose Create embed. It shows the card like below.
Isn't it easy, right? This way you can embed Glasp's highlights as a card on Obsidian and Notion. We're going to improve the feature, so please wait for the next product update release.
---
Before you leave
If you have any questions, please look at FAQ or message us.
👉 FAQs
👉 Twitter
👉 Slack
See you next time,
Glasp team
—