How to use AI-powered writing assistance with using curation data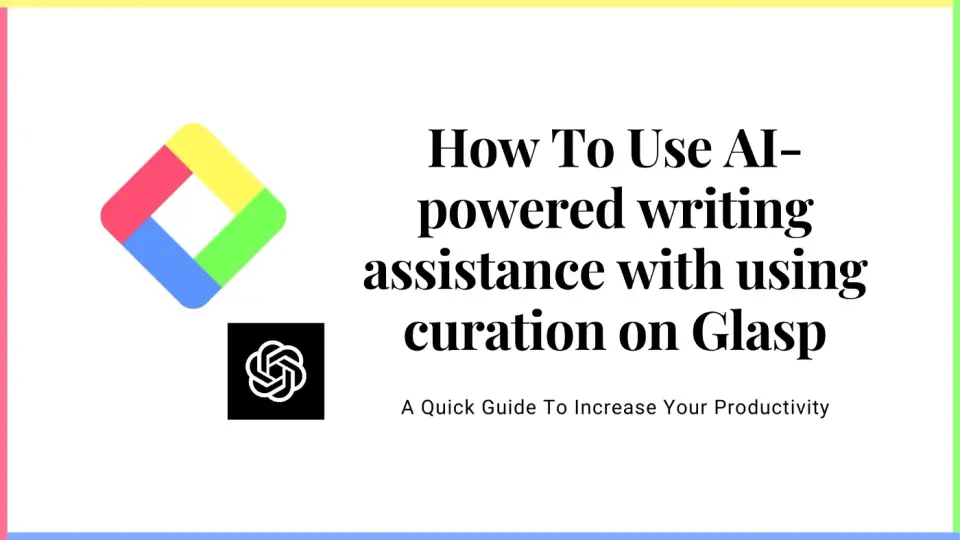 If you haven't signed up for Glasp or installed the Glasp browser extension, please do so. You can refer to this tutorial.
Step 1: Open and highlight an article
Open any article you want and start highlighting sentences you resonate with. When you select a sentence, you can see a popup showing up, so please click any color you want.
---
Step 2: Go to My Highlights page
Please open the Glasp page. You're on the Home feed now, so go to the My Highlights page by clicking at the top left.
You see an arrow button on the My Highlights page at the right. So, please click it and slide the sidebar.
---
Step 3: Create Atomic Notes
Once you slide the sidebar, you will see a page like below. Please click the Atomic Notes at the right.
You will see an element saying + Create Atomic Note, so please click it and create a new Atomic Note.
This is a simple note, then you can write anything you want. Please understand that this note is public, so others can see what you wrote. *This note is a hidden feature, so people wouldn't notice unless they search it actively.
---
Step 4: Use AI-powered writing assistance
On the note, you can type / to see what Glasp offers.
You see four options. Below is a brief introduction to what each does.
📚 Create weekly best reads: It generates three articles' summaries from the articles you read for seven days. The summary is based on the highlights you made. If you delete the best reads and generate them again, it shows different weekly best reads.
📚 Create monthly best reads: It generates five article summaries from the articles you read for 30 days. The summary is based on the highlights you made.
✍ ️Create the next paragraph: It generates the next paragraph based on what you input before the generated paragraph. It also uses the highlights you made and data on the Internet. (check)
💡 Give me some ideas: It generates some ideas to help you start writing. Based on the highlights you made before, it personalizes ideas given to you.
With these four options, Glasp helps you read and write the summary of the articles, and write a new paragraph. We keep improving the feature, and we will provide more personalized and helpful writing assistance to you!
---
Before you leave
If you have any questions, please look at FAQ or message us.
👉 FAQs
👉 Twitter
👉 Slack
See you next time,
Glasp team
—