July 6, 2023: When critical thinking isn't enough: to beat information overload, we need to learn 'critical ignoring'
Hi friends,
How's everything going?
This is Kei and Kazuki, founders of Glasp 👋

We hand-picked 3 good articles for you to highlight this week. Hope they'll help you get new ideas and perspectives. (You can read this online!)
Glasp is a reader-supported publication. To receive new posts and support my work, consider becoming a free or paid subscriber.
---
📚 3 Good Articles for You
AI and The Burden of Knowledge
by Mario Gabriele (10 mins)
The "burden of knowledge" indicates increasing knowledge base makes it harder for humans to contribute novel ideas.
AI doesn't face this issue, continuously improving and potentially surpassing human understanding.
As AI advances, humans may need to rely on AI's findings, creating a reliance on incomprehensible knowledge.
When critical thinking isn't enough: to beat information overload, we need to learn 'critical ignoring'
by Ralph Hertwig, Anastasia Kozyreva, Sam Wineburg, and Stephan Lewandowsky (5 mins)
The internet's overload of information necessitates new strategies beyond critical thinking due to increasing attention hijacking tactics by platforms.
"Critical ignoring," deliberately choosing what to overlook, is suggested as a tool to manage this information abundance.
Three strategies for critical ignoring include self-nudging, lateral reading, and the do-not-feed-the-trolls heuristic, which should be taught in schools for better digital world navigation.
Self Improvement Is Actually Addictive — If You Have the Right Frame of Mind
by Neeramitra Reddy (4 mins)
Self-improvement involves holistic growth with a purposeful reason, not just physical or productivity-oriented tasks.
Dopamine regulation, through limiting addictive modern activities and focusing on quality actions, is key to maintaining motivation.
Self-improvement is a personalized journey, dependent on individual perspectives and interests, with the constant being continuous improvement.
---
📣 Community
🟥 Quotes of the day on YouTube shorts:
We started sharing great quotes through our YouTube channel. Let's learn from great predecessors with us every day 📚
🟦 Highlight with a keyboard shortcut:
We added a keyboard shortcut to highlight sentences with Glasp. The shortcut key is Shift + G + G. To enable it, visit the User Setting page through a browser extension. For a detailed tutorial, please check this page.
---
👀 Featured Curator on Glasp
RF24
RF24 learns AI, startups, technology, education, etc. Let's follow him and learn together!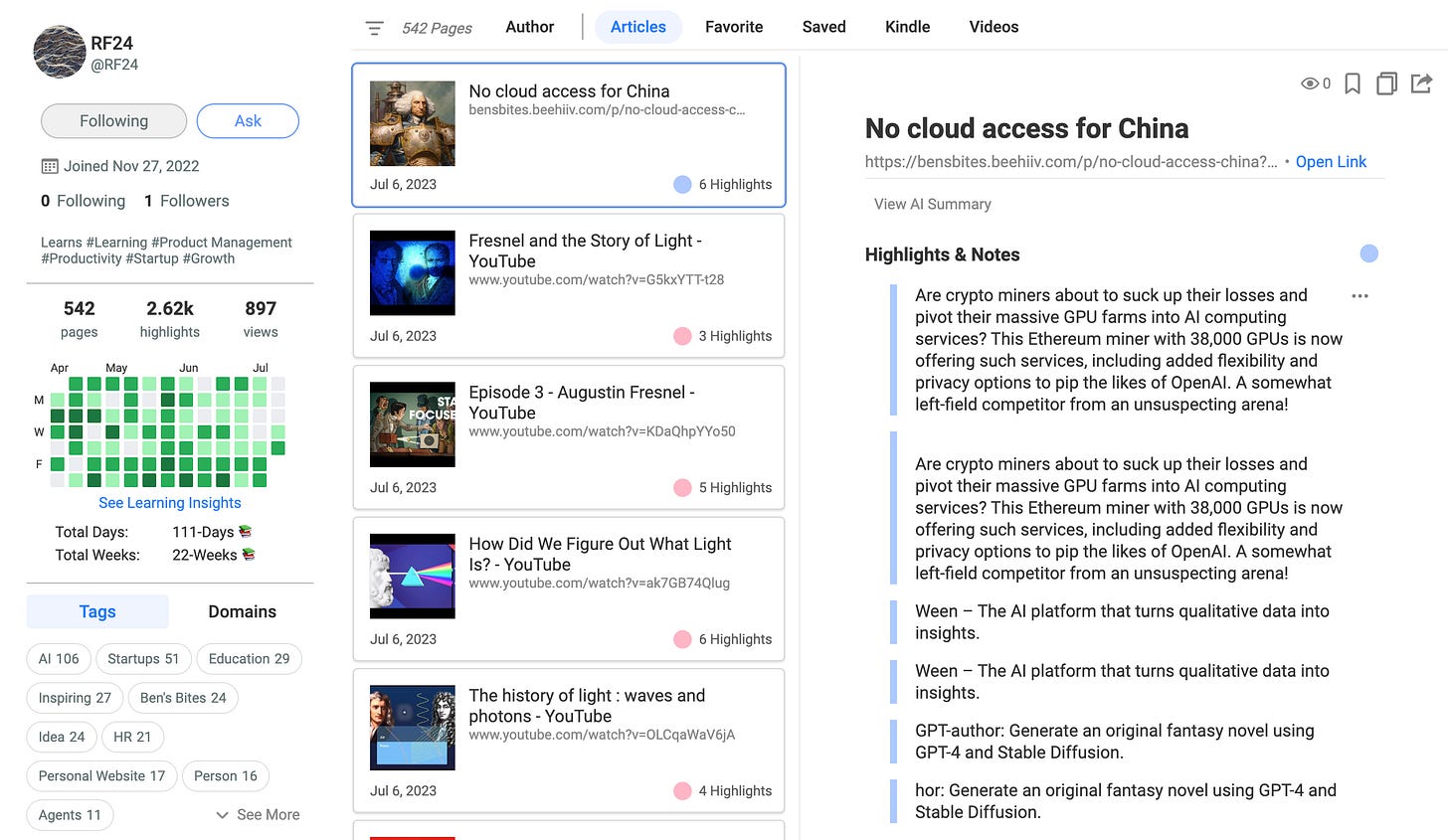 Please mention @Glasp and share your profile page on Twitter if you'd like to get featured!
---
🐣 User's Hatch
Here's an insightful hatch by Eva Rtology
Hatch is a new feature that generates new ideas/articles by finding common points in two articles. Please check here to see how to use it.
---
❤️ Gratitude
We found some people who mentioned Glasp in their articles and blogs, and we appreciate all the kindness!
Thank you for taking the time to talk to us! Your feedback is insightful and helps us improve the product!
We found that Glasp was featured in the articles below. Thank you for writing about Glasp!
Thank you all for sharing and mentioning us on Twitter, LinkedIn, and/or in your blogs 🙂 We appreciate all of your support! Please feel free to ask us anything at any time! Also, feel free to join our Slack community ;)
Hope you enjoyed reading this newsletter!
See you next week ;)

Best,
Kei and Kazuki

--
Quote of The Day: "Twenty years from now you will be more disappointed by the things that you didn't do than by the ones you did do. So, throw off the bowlines, sail away from safe harbor, catch the trade winds in your sails. Explore, Dream, Discover." — Mark Twain
P.S. We are thinking about accepting newsletter sponsorship. If you are interested, please apply here.
---
Is Glasp helpful for you?