November 20, 2023: What Is Self-Determination Theory?
"Difficulties break some men but make others. No axe is sharp enough to cut the soul of a sinner who keeps on trying, one armed with the hope that he will rise even in the end." ― Nelson Mandela
---
Hi friends,
How's everything going?
This is Kei and Kazuki, founders of Glasp 👋

We hand-picked 3 good articles for you to highlight this week. Hope they'll help you get new ideas and perspectives. (You can read this online!)
---
📚 3 Good Articles for You
Learning vs. Impact
by Deb Liu (7 mins)
Career Paradox: The author reflects on the paradox of learning versus impact in a career, noting that maximum impact often occurs when learning is minimal, and vice versa. They experienced this at Facebook, where familiarity with the job led to a decline in learning and growth.
Balancing Learning and Impact: The piece discusses the challenge of balancing making an impact and learning new skills. It suggests strategies to reintroduce learning into roles where one is already impactful, like taking on new challenges, innovating, creating new things, and helping others.
New Roles and Value Creation: For those in new roles, the author advises focusing on learning while finding ways to make an impact. This includes fixing problems, taking initiative, banking wins, and helping others, all of which can lead to respect and success in the new position.
Share: Tweet your learning
Love vs. fame: A framework for social applications
by Li Jin (8 mins)
The article contrasts social apps focused on personal connections ("love", like iMessage and WhatsApp) with those aimed at fame and reach (like YouTube, Instagram, TikTok, Twitch), analyzing their user engagement and business models.
It discusses the shift of platforms like TikTok and Instagram towards fame, emphasizing content discovery over connections, and the implications for advertising and monetization.
The potential of crypto in fostering "love"-focused social networks is explored, highlighting opportunities for smaller, high-context groups and alternative business models to mainstream social media's ad-based approach.
Share: Tweet your learning
What Is Self-Determination Theory?
by Kendra Cherry (7 mins)
Theory Essence: Self-determination theory centers on fulfilling three innate needs—competence, connection, and autonomy—emphasizing intrinsic motivation for psychological health and well-being.
Fundamental Assumptions: Developed by Edward Deci and Richard Ryan, the theory suggests people are driven by growth and fulfillment, requiring autonomy, skill mastery, and social connection.
Practical Impact: High self-determination leads to satisfaction and success in areas like work, education, and relationships, enhanced by self-awareness, self-regulation, and social support.
Share: Tweet your learning
---
📣 Community
🟥 5M Highlights:
We've hit a total of 5M unique highlights (digital legacies)! Congratulations to all of you 🎉 Our team is working hard to improve Glasp and bring a better experience to you, so please bear with us 🙇‍♂️ Here's the image.
🟨 Read5for5:
We had the Read5for5 reading challenge last week! And we saw many learners joining and sharing the challenge! Thank you for learning with us 📚 Please look at this page for all the articles in the challenge.
🟦 Save a Web Page with Highlights in a PDF File:
Have you ever thought that you'd like to print or save a website with highlights(annotations) in a PDF file? If you're a researcher or a student studying with a web highlighter, saving a web page with highlights is a great way to improve productivity and remember what you learned. Please check this article to see how it works 👀
---
👀 Featured Curator on Glasp
Jack Carney
He learns autodidact, diplomacy, international relations, and more! Let's follow him and learn together!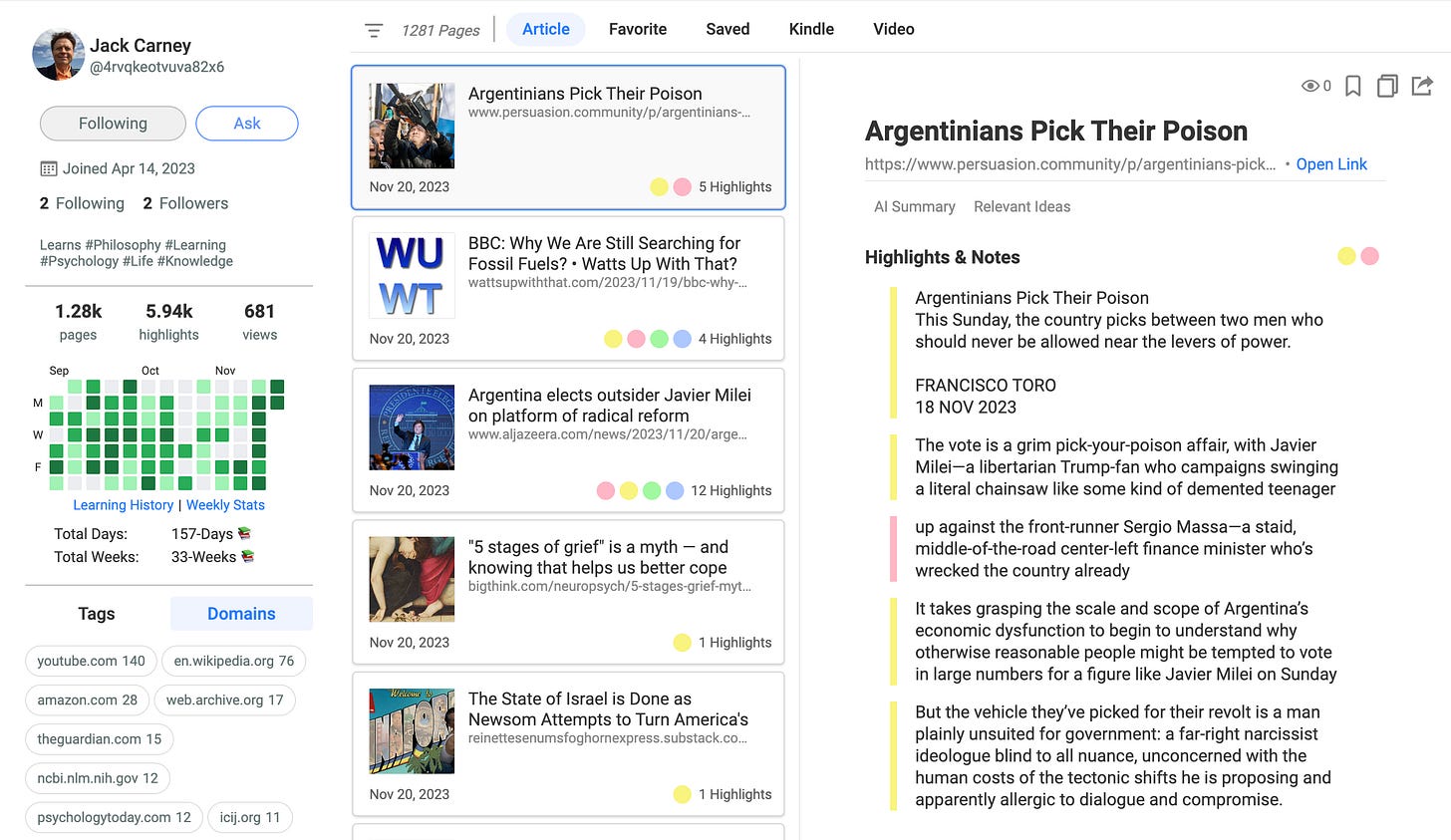 Please mention @Glasp and share your profile page on Twitter if you'd like to get featured!
---
❤️ Gratitude
We found some people who mentioned Glasp in their articles and blogs, and we appreciate all the kindness!
Thank you all for sharing and mentioning us on Twitter, LinkedIn, and/or in your blogs 🙂 We appreciate all of your support! Please feel free to ask us anything at any time! Also, feel free to join our Slack community ;)
Hope you enjoyed reading this newsletter!
See you next week ;)

Best,
Kei and Kazuki

--
---
Is Glasp helpful for you?