September 25, 2023: Theory of Change
"The best thing to hold onto in life is each other."

― Audrey Hepburn
---
Hi friends,
How's everything going?
This is Kei and Kazuki, founders of Glasp 👋

We hand-picked 3 good articles for you to highlight this week. Hope they'll help you get new ideas and perspectives. (You can read this online!)
---
📚 3 Good Articles for You
Theory of Change
by Aaron Swartz (4 mins)
Aaron Swartz introduces the "Theory of Change," emphasizing the importance of working backward from a goal to determine actionable steps.
Using the defense budget as an example, Swartz illustrates the need to understand and influence key decision-makers, like politicians.
Commenters discuss the challenges and practicalities of this approach, emphasizing trust, credibility, and the complexity of certain goals.
Share: Tweet your learning
How Successful People Increase Productivity
by FS (2 mins)
Schedule Tasks Over To-Do Lists: Scheduling helps prioritize and acknowledge time limits.
Prioritize Saying "No": Successful people emphasize controlling their time by often declining requests.
Use Peak Hours for Key Tasks: Allocate high-energy periods for vital tasks, not low-value activities like email.
Share: Tweet your learning
Spinning Data into Thought
by Simon Carryer (9 mins)
AI and Textiles: Knitting patterns mirror algorithms, highlighting how simple sequences create complex results.
Industrial Revolution's Lessons: Innovations, like the spinning jenny, revolutionized industries but also rendered certain professions obsolete, leading to societal shifts and resistance.
21st Century AI Transition: As the Industrial Revolution reshaped society, AI is now transforming our world. Future discussions will elucidate AI's workings and broader impacts.
Share: Tweet your learning
---
📣 Community
🟥 Mobile app (iOS & Android) released:
We released a mobile app on iOS & Android finally! They have basic features now, but we're updating to have more features available on mobile apps. As it's an initial launch, it'd have some bugs. Please bear with us and report bugs from this link 🙏
 • 👉 Install the iOS app or Android app
---
👀 Featured Curator on Glasp
Abu Bakar Siddik
He learns NLP, computer vision, deep learning, and more! Let's follow him and learn together!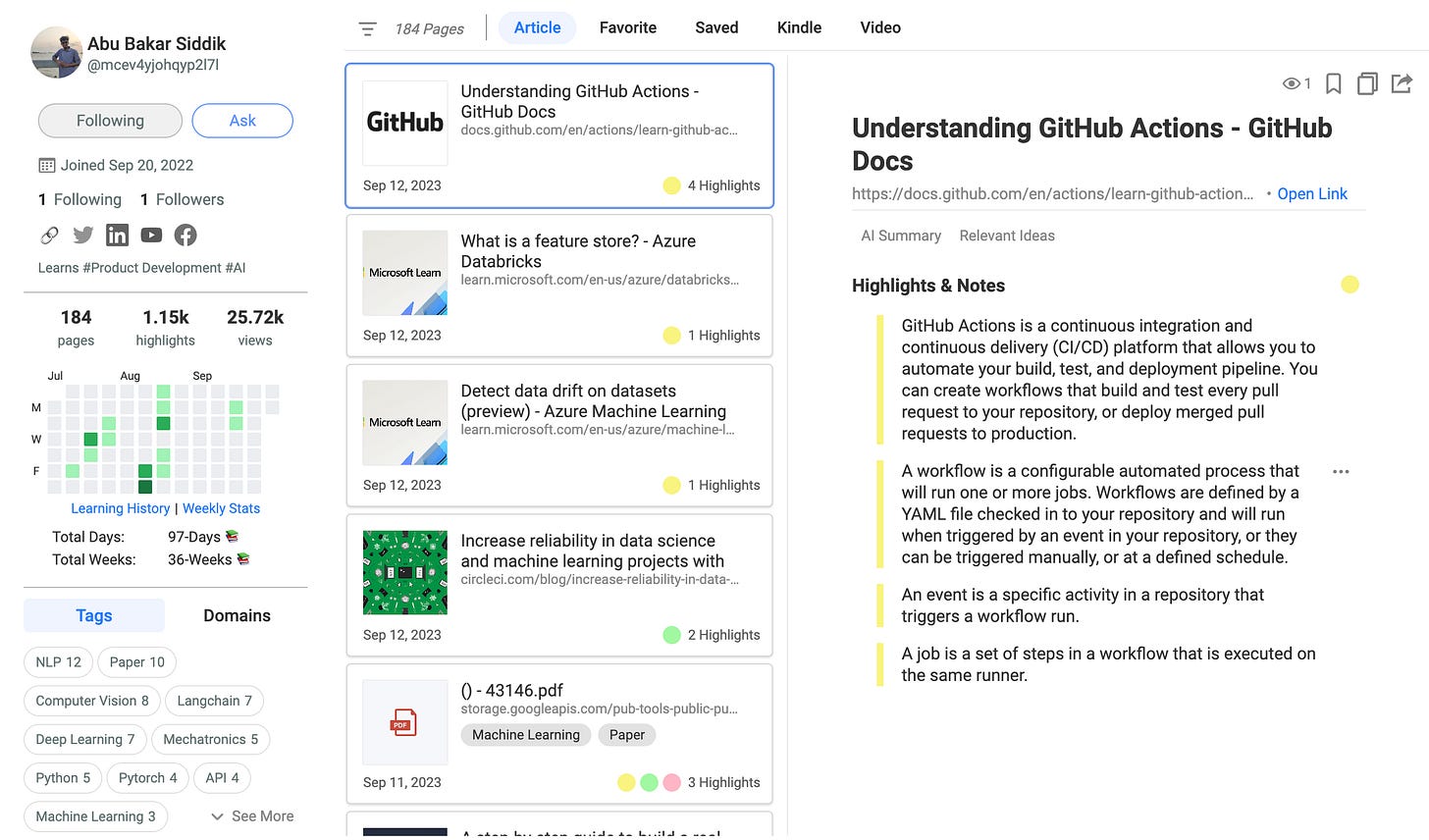 Please mention @Glasp and share your profile page on Twitter if you'd like to get featured!
---
❤️ Gratitude
We found some people who mentioned Glasp in their articles and blogs, and we appreciate all the kindness!
Thank you for reviewing and rating the Glasp extension on the Chrome Web Store ❤️ We appreciate your support so much! If you have time to review it, please visit this page and rate us 🙏
We found that Glasp was featured in the articles below. Thank you for writing about Glasp!
Thank you all for sharing and mentioning us on Twitter, LinkedIn, and/or in your blogs 🙂 We appreciate all of your support! Please feel free to ask us anything at any time! Also, feel free to join our Slack community ;)
Hope you enjoyed reading this newsletter!
See you next week ;)

Best,
Kei and Kazuki

--
---
Is Glasp helpful for you?