August 21, 2023: Tell People What You Want
Hi friends,
How's everything going?
This is Kei and Kazuki, founders of Glasp 👋

We hand-picked 3 good articles for you to highlight this week. Hope they'll help you get new ideas and perspectives. (You can read this online!)
---
📚 3 Good Articles for You
The risks of AI are real but manageable
by Bill Gates (12 mins)
Artificial intelligence (AI) presents both risks and opportunities, comparable to the challenges faced with earlier innovations like automobiles and personal computers.
AI has the potential to revolutionize various sectors, including health, education, and climate change. However, it also introduces new challenges, such as job loss, misinformation, and deepfakes.
It's essential for governments to establish clear regulations and guidelines for AI use, learning from historical precedents to ensure the technology's benefits outweigh its risks.
Tell People What You Want
by Deb Liu (7 mins)
Express Aspirations: Clearly sharing your goals can prompt others to help you reach them.
Actively Seek Opportunities: Directly ask for what you want and detail how others can assist.
Clear Communication: Avoid mixed signals by being specific about your needs and intentions.
Life is a game. This is your strategy guide
by Oliver Emberton (5 mins)
Time Management: Mastering time allocation is key, shifting from activities to finances as you progress.
Balancing Act: Prioritize health and skill development, making informed choices to maintain momentum.
Decisive Moves: Location, relationships, and smart financial choices shape the game's outcome.
---
📣 Community
---
👀 Featured Curator on Glasp
Mingos Rama
Mingos learns seaweed, web3, biochar, music, and more! Let's follow him and learn together!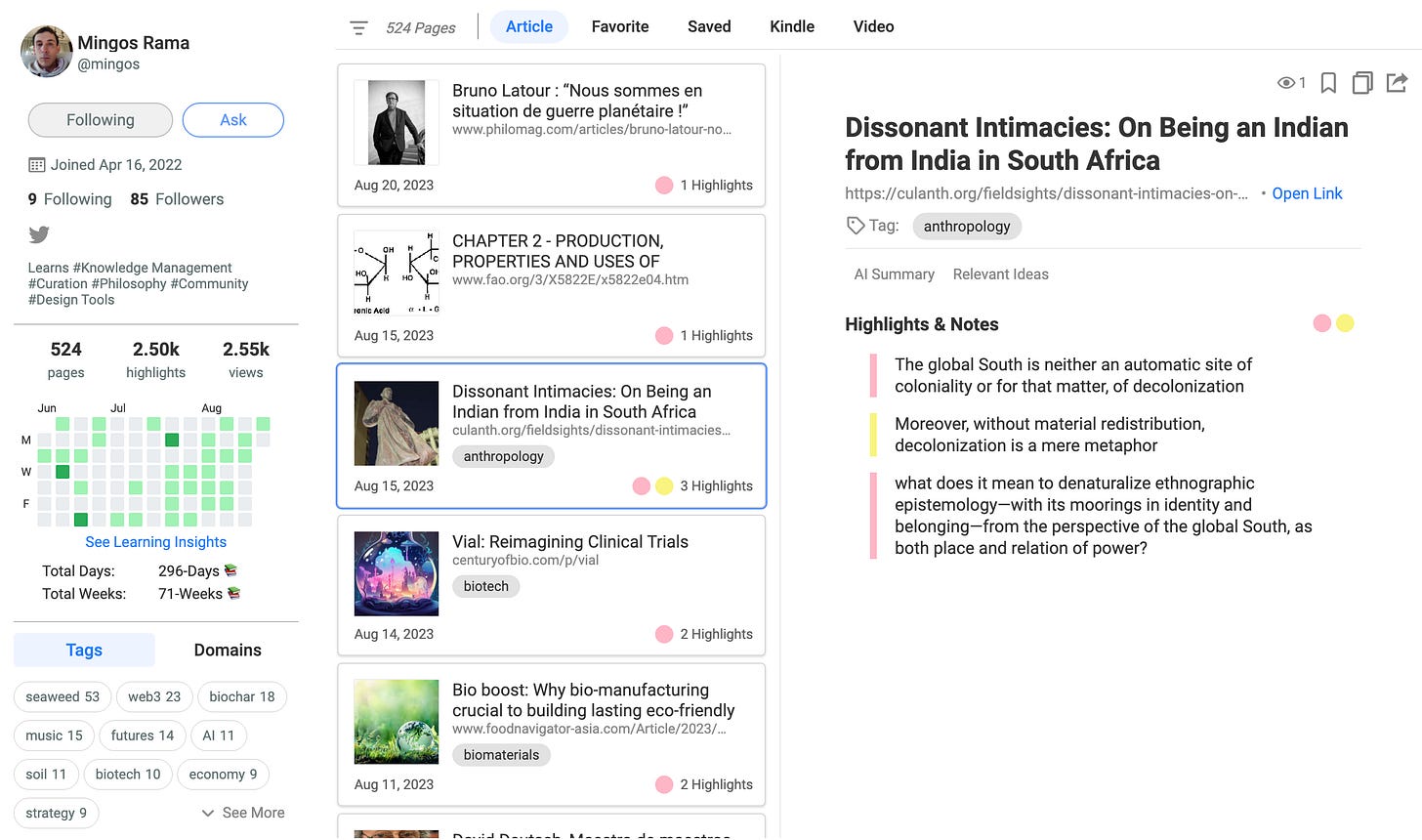 Please mention @Glasp and share your profile page on Twitter if you'd like to get featured!
---
🐣 User's Hatch
Here's an insightful hatch by Kerry Friend
Hatch is a new feature that generates new ideas/articles by finding common points in two articles. Please check here to see how to use it.
---
❤️ Gratitude
We found some people who mentioned Glasp in their articles and blogs, and we appreciate all the kindness!
Thank you for taking the time to talk to us! Your feedback is insightful and helps us improve the product!
We found that Glasp was featured in the articles below. Thank you for writing about Glasp!
Thank you all for sharing and mentioning us on Twitter, LinkedIn, and/or in your blogs 🙂 We appreciate all of your support! Please feel free to ask us anything at any time! Also, feel free to join our Slack community ;)
Hope you enjoyed reading this newsletter!
See you next week ;)

Best,
Kei and Kazuki

--
Quote of The Day: "Life is a party. Dress for it." ― Audrey Hepburn
P.S. We are thinking about accepting newsletter sponsorship. If you are interested, please apply here.
---
Is Glasp helpful for you?