Glasp and CX Specialist Agata Chmielewska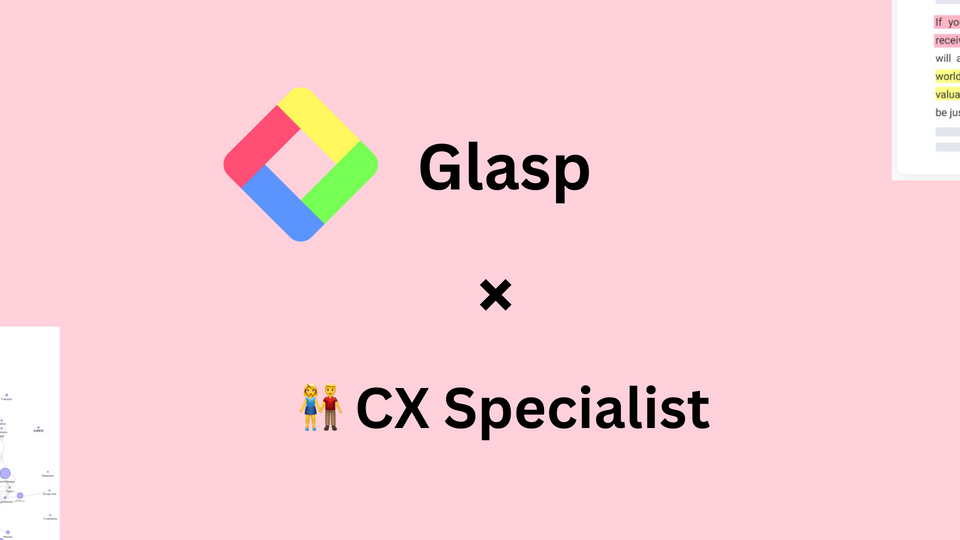 Fortunately, many users have discovered Glasp to be a helpful work tool; we often see a portion of their workflow on their Glasp profiles. In addition, we get a lot of feedback from writers, researchers, designers, and learners, which helps us fine-tune and improve Glasp. We spoke with Agata Chmielewska, a Customer Experience Specialist who uses Glasp, for this interview. We found her professional learning and designing insights and input illuminating. We hope they will be useful for other CX Specialists and designers. Let's look at her learning process and how she manages her workflow using Glasp.
What you will learn in this article
---
Use Case of Glasp
Value of Glasp
Appendix
---
Background
Agata currently lives in Warsaw, Poland. She is a CX Specialist and and UX designer working with many clients. She began using Glasp after she found it in a Medium article about productivity tools. She often reads articles about CX, accessibility, UX design, work-related, AI, e-commerce, note-taking, and psychology.
💡
Agata's Toolset:
• Glasp (Highlight + Content management)
• Medium & Feedly (Content discovery)
• Notion (Note-taking)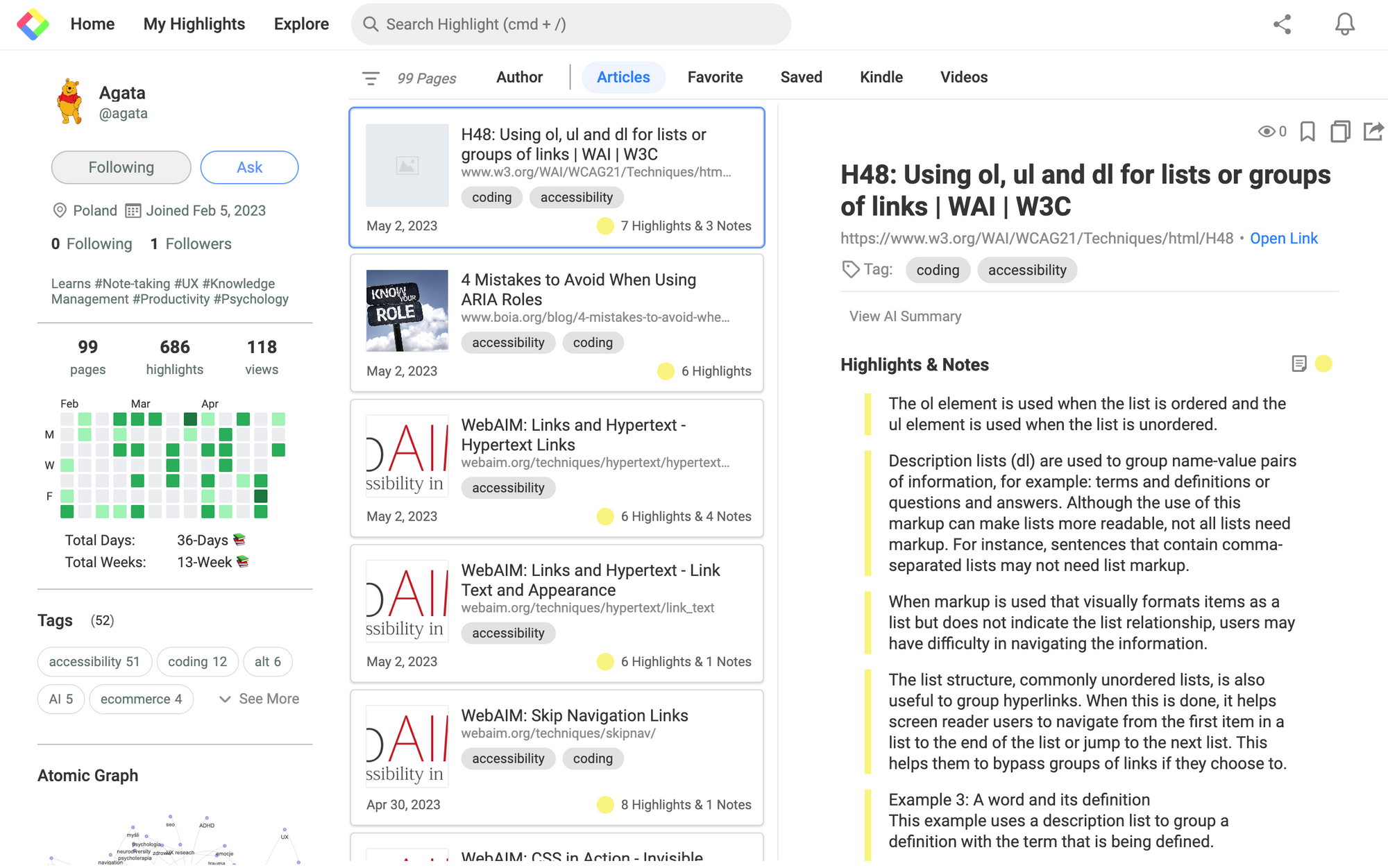 Use Case of Glasp
Glasp: Thank you for having a chance to talk to us! Firstly, could you tell us how you find articles to read?
Agata: Yeah. I often read articles about many areas: accessibility, UX design, AI, e-commerce, psychology, etc. I usually find articles on Medium because it suggests to me related articles. And I subscribe to some newsletters and follow some websites in the Feedly app. When I'd like to know specific things, I google it.
I see. What would you do after finding articles?
One of my biggest issues is that I have many areas of interest ;) Furthermore I have ADHD so you can imagine how many things I want to do, read, know… I keep opening tabs on my desktop. I use an extension called OneTab, which keeps all the tabs. Sometimes I put selected articles in the task box in ClickUp (when I want to read them in the future and I know that it takes me more time) or send them through an email (when the article seems important to me). Of course, if the article isn't helpful for me, I close it.
When I'm reading articles and find an important sentence, I highlight it with Glasp. I can highlight it without any disturbance, so I like it.
Thanks. Do you look back at your Glasp profile page?
Yes. When I want to sort out and consolidate my knowledge, I look back at my Glasp profile page and remember an important concept. It showcases only the essence in a way like my personal summary, so I can grasp it at a glimpse.
Also, I copy-n-paste my highlights about CX, UX or other areas on Glasp and paste them on Notion. On Notion, I take notes and paste images from the article, too. It has much customizability, I can make my learning system.
Have you shared Glasp with others such as your friends, colleague, etc?
I haven't. I'm a kind of an introvert, so I'm not sharing it actively. But I like the idea of social learning. It's nice if someone can learn from my learnings.
I use Linkedin to comment on others' posts, but I don't post my updates frequently. When I post, it's usually my articles. It'd be nice if I could use Glasp to interact with others and discover more interesting content.
Value of Glasp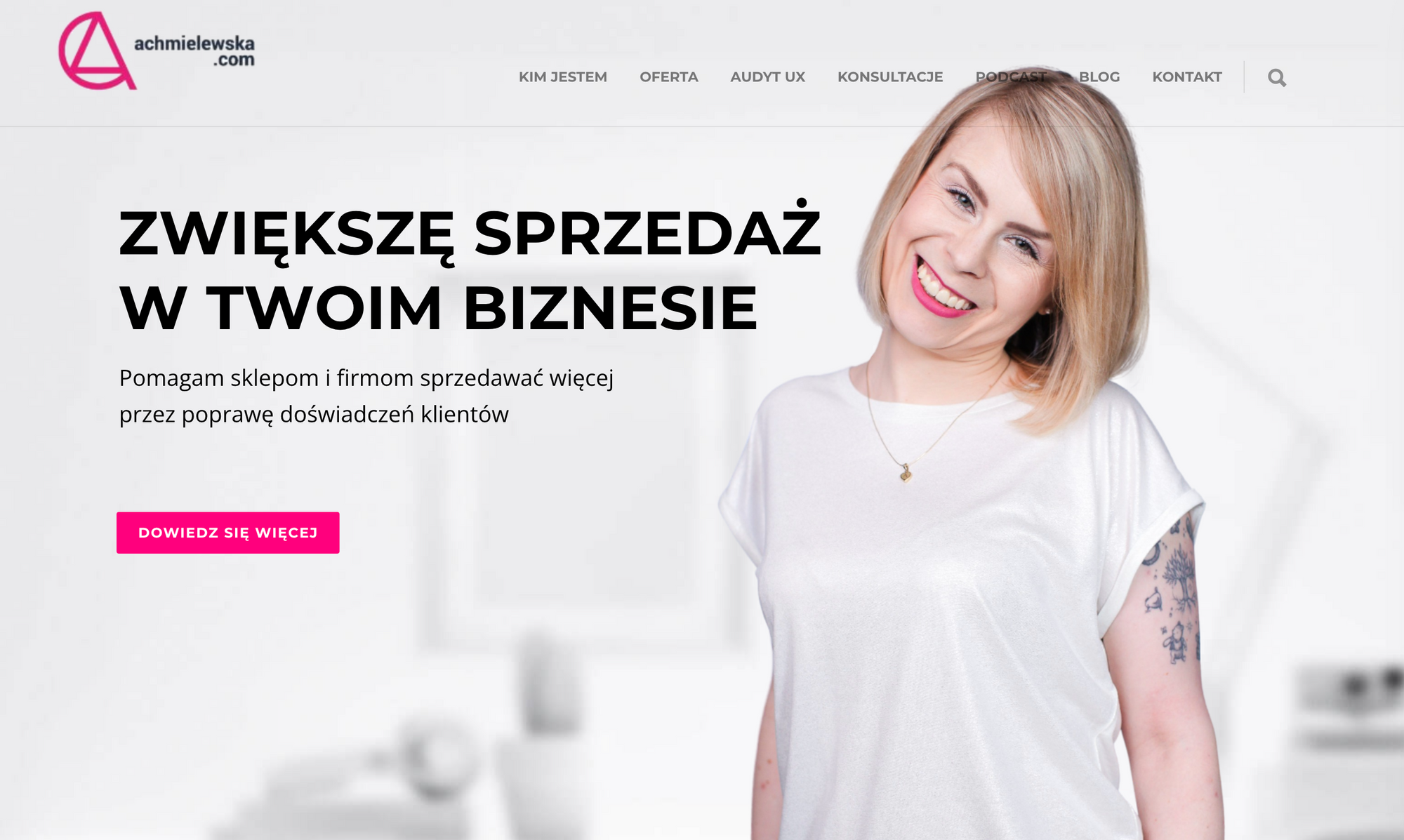 Thanks for your feedback. How is Glasp beneficial and helpful for you?
As a CX Specialist and UX designer, I need to keep learning many things. My clients are various in the domain. And AI has been a hot topic recently, it's said that it'll change the world drastically. Therefore, I need to catch up with a lot of ongoing technologies, new trends, and UX design tendencies. To do that, I read a lot online. Glasp helps me manage what I read, export the essentials into Notion, and refer to my past learnings.
Apart from that, I watch YouTube videos about CX, design and new trends. But it takes time to watch the full content of the video. So, YouTube Summary with ChatGPT is a kind of innovation for my video-watching experience. I can understand the content in a few seconds before watching it and save the critical parts of the video through transcripts.
Is there anything you want us to improve on Glasp?
Firstly, I'd like to save images. As I mentioned, UX/UI is more visual, so I see many articles with pictures. Secondly, it'd be nice if I could have signed up without a Google account or could know which Google account I've signed up with. As I have multiple Google accounts for my work and my personal one, it's confusing sometimes. And lastly, I'd like to import my Kindle's highlights and notes into Glasp. I read a lot on Kindle, but I'm a bit struggling with how to manage it. If I can import it into Glasp in Polish, that's so helpful.
Thank you for your feedback! We will improve the product.
Sure.
* We apologize for the confusion. You can import Kindle highlights and notes in any language. Please visit this page for a tutorial.
Appendix
In this use case interview, Agata introduced how she uses Glasp. We understand that professional designers' workflow can sometimes be a difficult and drawn-out process. We were pleased to hear that Glasp helps contribute to her increased productivity. We hope other designers who read her interview can benefit from her perspective to help them become more productive. Please let us know if you have any requests for new features or suggestions. We always appreciate hearing from our Glasp community!
More about Agata
Follow Glasp to see more updates 👀
—